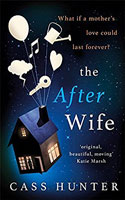 The After Wife, by Cass Hunter (aka Rosie Fiore), is about a family given a second chance to reconnect with the woman they loved and lost. The synopsis says: ""I saw you, and I knew instantly that I could grow old with you. We'd be future-proof."
When Rachel and Aidan fell in love, they thought it was forever. She was a brilliant, high-flying scientist. He was her loving and supportive husband.
Now she's gone, and Aidan must carry on and raise their daughter alone. But Rachel has left behind her life's work, a gift of love to see them through the dark days after her death. A gift called iRachel." The After Wife is out in March 2018.