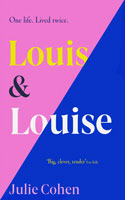 Louis & Louise, by Julie Cohen, explores the notion of the same person being in two different realities - one as a male, one as a woman.
The synopsis says: "One Life. Lived Twice. Louis and Louise are the same person born in two different lives. They are separated only by the sex announced by the doctor and a final 'e'.
They have the same best friends, the same red hair, the same dream of being a writer, the same excellent whistle. They both suffer one catastrophic night, with life-changing consequences. Thirteen years later, they are both coming home." Louis & Louise is out in January 2019.
TEXT