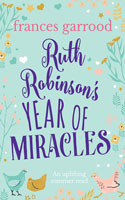 Ruth Robinson's Year of Miracles, by Frances Garrood, is about a woman facing an unexpected pregancy. The summary says: "All Ruth Robinson ever wanted was the man of her dreams. But she lost the man, and got a baby instead...
Six months ago, Ruth Robinson had a regular job, a monthly salary and a comfortable flat to go home to. After quitting her job ready to go travelling, a momentary lapse of judgement put a major spanner in the works.
Now Ruth has a baby on the way and no place to call home. With the father of her child AWOL and her parents less than impressed, Ruth decides to move in with her eccentric uncles.
And when the Virgin Mary appears in their hen house, it is clear Ruth's unplanned pregnancy isn't the only 'miracle' she'll be encountering this year..." Ruth Robinson's Year of Miracles is out in August 2018.
TEXT