PAIGE TOON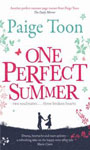 One Perfect Summer (2012)
Alice is spending her last summer holiday before university staying at a cottage in Dorset with her parents. At the local pub, she spies the gorgeous bartender Joe, whose parents run the venue. The two teens start spending all their time together but Joe's family are far from welcoming. After a heartbreaking incident, the pair is split up and Alice goes off to Cambridge, hoping Joe will visit her. But he never does. Instead she meets Lukas, a student from a wealthy German family. Should she move on with her life with Lukas - or wait for her first love to come back? The story - split into three main timeframes - is simply enchanting, although the end section seemed somewhat rushed.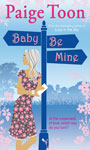 Baby Be Mine (2011)
This is the much-anticipated sequel to Johnny Be Good, which saw ordinary girl Meg become personal assistant to bad boy rocker Johnny Jefferson in LA. That novel left on a cliffhanger, with Meg pregnant but not sure who the baby daddy was. Now with her son Barney turning one, it is becoming more evident that he looks not like Meg's live-in writer boyfriend Christian but instead like his rock star friend. And Meg is wracked with guilt and wondering how long her son's paternity can stay a secret. Johnny, meanwhile, is in and out of rehab and dating out-of-control party girl Dana so doesn't look like a good prospect for fatherhood. I found this a disappointing sequel with overwrought emotions and stilted writing. It has been several years since I read the first book so it might be my memory but Meg seemed like an entirely different character. At one point, when we popped into a motor racing event to catch up with Luis from Toon's Chasing Daisy novel, I was sort of hoping Johnny was going to come to a fiery end.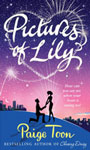 Pictures of Lily (2010)
English schoolgirl Lily arrives in Australia, as her mother pursues yet another romance. They move in with Michael, who gets Lily holiday work at the local conservation park. There she falls for sweet-hearted koala hander Ben - only problem is he's 12 years older and about to join his fiancee in England. Ten years later, when Lily's boyfriend Richard proposes, she can't help but wonder about Ben. With the story split into the two time zones, the budding romance between Lily and Ben was really sweet but the second half dragged towards its predictable conclusion. And as usual, watch out for mentions of previous Toon characters - from Lucy and Nathan, to rock star Johnny and racing car driver Luis.

Chasing Daisy (2009)
After getting her heart broken, Daisy Rodgers flees America in the hope that putting as much distance between herself and her ex will help speed up her recovery. Jumping at the chance to see the world (while getting paid to do so) she joins the team catering to the world's highest paid, supercharged racing drivers on the Formula 1 Grand Prix circuit. Only trouble is, it's not long before she finds herself falling for one of the drivers and with him already having a girlfriend (a childhood sweetheart no less), surely it can only lead to one thing - further heartbreak. With enough twists and turns - with one in particular that will have you quite literally gasping for breath - this is a highly enjoyable read. A real "paige" turner in fact. Plus if you were a fan of Johnny Be Good, then look out for the cameo appearances from Meg, Johnny and Christian, along with the revelation of just who the father of Meg's baby was! (KC)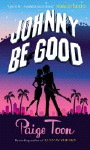 Johnny Be Good (2008)
Meg Stiles is on her way from London to LA, to act as British rock star Johnny Jefferson's personal assistant. Even though she prefers Kylie and had to Google her new boss, Meg finds - like the rest of the female population - she is unable to resist the gorgeous musician tatts and all (Robbie Williams, anyone?). Trouble is despite his actress girlfriend, Johnny can't resist the trappings of his sex, drugs and rock'n'roll lifestyle. As Meg hits red carpet events and band showcases courtesy of Johnny, she hangs out with his friend from home Christian, who is writing his biography. Is she going to be able to resist mixing business with pleasure? A pure escapist story for all those who have ever dreamt of a poster boy falling into their arms. For fans of Toon's first book, Lucy in the Sky, watch out for the brief mention of Lucy and Nathan (Meg's ex-boyfriend Tom is Lucy's stepbrother).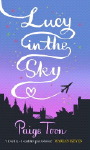 Lucy in the Sky (2007)
Lucy is heading back to Sydney for the wedding of her best friend Molly and Sam, a guy Lucy has always had a crush on. As Lucy gets on a flight from Heathrow, she's gets a text message, supposedly from another woman claiming she's slept with Lucy's boyfriend James. After an excruciatingly long flight, James' excuses just don't add up - after all he's a lawyer who has a habit of stretching the truth. Enjoying herself back in her hometown, Lucy finds herself drawn to Sam's younger brother, Nathan, a laidback surfer. A first-class read with lots of humour.

---
Also by author:


The Longest Holiday

---