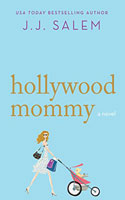 Hollywood Mommy, by J.J. Salem, is about an actress who is needing a nanny, not looking for love. The synopsis says: "B-movie queen Tatiana Fox's life has gone the way of her straight-to-DVD career.
She's been had by the sleazy, the lazy and the greedy. First, her husband left her. Then her nanny quit, deserting her for a bigger star with better perks. Things are finally looking up when Tatiana lands a coveted role in a sure-to-be blockbuster, but she can't start shooting until she finds a new nanny for her two-year-old twins.
Enter Jack Thorpe. The Aussie ex-soccer star is easy-on-the-eyes and easy-to-please, having come to Hollywood in search of his big break, only to find himself flat broke. He respects Tatiana, adores the twins and needs the money. But what begins as a business arrangement develops into something else as Tatiana's suddenly hot career pulls her every-which-way, and Jack tugs on her heart in ways she never expected." Hollywood Mommy is out in March 2018.