HELEN WARNER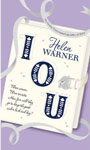 IOU (2012)
This is a story about widow Jennifer and her two daughters Amy and Kate. Amy has to abandon her extravagant lifestyle after husband Ben's company runs into financial trouble. With Ben suffering a nervous breakdown, Amy has to find a strength and resourcefulness within herself that she never knew she had. Her sister, Kate, a nurse, meets Jack when she has a car accident in a shopping carpark. Drawn to her knight in shining armour, she finds herself dissatisfied with her life and marriage to council worker Miles. And an old flame returns into Jennifer's life in the form of Hugh, the man she turned down to marry Michael all those years ago. But why does she feel like she is betraying her late husband?
This is a well-conceived story about instant attraction, temptation and dealing with past debts, and shows that the two generations have more in common than they first thought.
RSVP (2011)
When Anna receives an invitation to her ex Toby's wedding, her friend Clare urges her to attend to get "some closure". Toby was her university boyfriend and even now, more than a decade later, she still hasn't gotten over him. Ella also once had her eye on Toby but now she's married to a much older man. She too is a guest at the wedding but how welcome is she? And little does Clare know that the wedding is going to have big repercussions in her own life. Meanwhile, Rachel, the bride, seems to be having doubts as the big day dawns.
With lots of flashbacks to pivotal events, this is a captivating book about how one wedding changes a lot of lives. Don't turn down this invitation.
---
Also by author:


The Story of Our Lives



With or Without You

---