CECELIA AHERN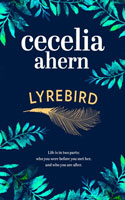 Lyrebird (2016)
Cecelia Ahern is adept at the different and many of her books contain a mysticism about them, and she continues this trend with this novel. In this story we have Laura who mimics the sounds and noises around her, hence her nickname Lyrebird. She is discovered by a film crew come to pay their respects to a previous documentary subject. The Toolin twins was an award-winning film for Bo. She is at the funeral to continue filming and cover the reaction of the surviving twin. What she doesn't expect is Laura. She is found living on the twins' property, the daughter of Tom Toolin that no one knew about. When her skill for mimicry is discovered and the history of how she came to live on the land is revealed, Bo has her new subject and Laura agrees to feature in a doco of her life. Bizarrely, she is entered into a reality talent show and has a growing attraction with sound guy Solomon, Bo's boyfriend.
The Queen of romantic popular fiction provides little romance and a lot of characters difficult to empathise with. If you like Ahern's uniqueness for the unusual and the other-worldly, you'll enjoy this, if not, best to avoid it. (LF)
---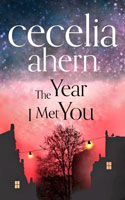 The Year I Met You (2014)
At 33, Jasmine has carved out a successful career, creating and selling businesses. Aside from her sister, Heather, who Jasmine loves and protects with the fierce instincts of a mother, Jasmine lives for her job. So when she's placed on a year's gardening leave, giving her no option to work for a full 12 months, Jasmine is completely sideswiped. She's never been one to be involved in the minutiae of others' lives but her neighbour, the notorious radio DJ Matt Marshall, and his seeming ability to throw his life away fascinates Jasmine, until she is forced not only to watch from the sidelines but actually intervene despite her inherent dislike of the man. Across the year as Jasmine sees out her gardening leave, she is forced to reassess her life, her priorities and her future as well as her impression of Matt.
I'm a huge fan of Cecelia Ahern and eagerly await the release of her books. As ever, Ahern seemed to have hit on an interesting concept... a friendship between two unlikely characters. However, unfortunately, for me, the novel never reached the heights that I've come to expect and love with Ahern's novels. A lot of the first 100 pages is Jasmine watching Matt from afar and even when they do form a relationship of sorts, we see very little of it and it never lives up to the implication that is given. There was so much more that could and should have been done but whether the structure of a year limits this, I'm not sure. Certainly the structure leaves a lot of loose threads at the end and it all felt a bit flat. Indeed, it was somewhat slow-going, in fact I found myself losing concentration on several occasions which I've never done with an Ahern novel before and the focus on literal gardening that emerges in the novel also adds to the sedentary, slow feel of the book. It could have done with an injection of energy and passion, which Matt seems to offer but without this relationship ever taking the central stage that is set for it, the novel's left plodding along. Part of the novel is about slowing down, taking stock and re-evaluating life away from the hustle and bustle of a busy work-a-day lifestyle, and some readers may enjoy this slower, more introspective read but for me it just didn't offer the grand affair that we've come to expect from Ahern and it simply lacked her usual prowess. (JC)
---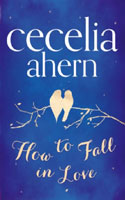 How To Fall In Love (2013)
Christine Rose is still recovering from a traumatic experience, one that may or may not have led to the end of her marriage, when she encounters Adam Basil on the edge of a bridge in Dublin getting ready to jump. Propelled into action, Christine rushes to his side and gets him to talk to her. Once she's got his attention she tells him that he should give her a chance to show him how great life can be. Hesitantly, he agrees, much to Christine's surprise. He gives her until his birthday ... which is two weeks away. Taking time off work, Christine gets every "How To" book under the sun to help her figure out what to do to make Adam want to live. From going out to eat and really "experiencing" the food to getting lost with the directions of a three-year-old, Christine slowly sees Adam come back to life. In the process, Christine has to deal with a vengeful ex-husband and Adam's ex-girlfriend who seems to think getting back together with him might be a good idea. As the two weeks come to a close, Christine must ask herself who really is saving who?
This is a powerful story and a beautifully written one at that. Christine and Adam may be the main characters but the real shining stars are Christine's father and two sisters, who are hilarious and dysfunctional but so lovable at the same time. You definitely don't want to miss this story and will feel a renewed sense of love for life. (AS)

---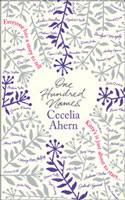 One Hundred Names (2012)
Kitty Logan made a massive mistake, promptly ruining her career as a TV journalist. Not only did she make a mistake but that mistake cost someone much more than she would have ever thought. On top of that, the people who found out she was wrong won't let her forget it. She's living through constant abuse and hate and doesn't really know how to start again. Luckily, her long-time friend and editor, Constance, still believes in her ability to tell a story so Kitty has the chance to show she's still a good journalist through Constance's offbeat magazine, Etcetera. However, before Kitty can find out what story her friend always wanted to write, she dies, leaving Kitty in control of a list of One Hundred Names. Not knowing any of the people on the list or what it is that connects them all, Kitty must embark on a journey of tracking down the individuals and trying to see them through the wise eyes of Constance. Can Kitty figure out how the story is supposed to go before it's too late?
This was a thought-provoking novel and Kitty is a great character who is slightly flawed and has lost her way - just like any normal person. However, figuring out what connects the hundred names seems to go on forever and there never is a definitive answer as to what it is. There are snippets of what connects them but nothing really solid so at the end, you're left with more questions than answers. That being said, it's kind of easy to come to your own conclusion about what connects the people and why they were picked. While this was a good book, with a great message, it definitely wasn't one of my favourite Cecelia Ahern novels. (AS)
---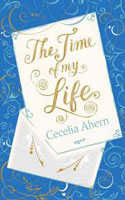 The Time of My Life (2011)
Lucy Silchester may speak five languages but she often doesn't speak the truth. Ever since she split with her jetsetting boyfriend Blake, lost her job and moved into a tiny apartment with just a cat for company, Lucy has been down in the dumps. Then she is summoned to meet with her Life - an appointment she can't put off any longer. Will he be able to help Lucy get herself back on track?
Ahern again injects quirky and magical elements into her storytelling, with the idea that your Life is in fact someone you can meet, who can force you to face up to your own deluded self-beliefs. There's lots of wry humour, particularly as Lucy, the narrator, recounts events by weaving in lies. But for a much-anticipated book of just under 400 pages, this just wasn't a story that enticed me to put my own life on hold to read it. And it doesn't really leave readers with much of an earth-shattering life lesson either.
---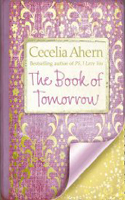 The Book of Tomorrow (2009)
Teenager Tamara Goodwin has had to pack up her life after the death of her father, and move with her mother to her aunt and uncle's place in the shadow of Kilsaney castle. When a travelling library visits the village, Tamara finds a padlocked leather-bound book. It's only a blank journal but when she goes to write in it, discovers that it now contains a diary entry in her hand-writing all about tomorrow. When the events outlined in the book come true the next day, she realises she can use the book to help her grief-stricken mother and uncover what her aunt Rosaleen is hiding. A wonderfully written and mesmerising story with layers of mysteries to unravel.
---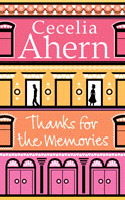 Thanks for the Memories (2008)
Joyce Conway is given a blood transfusion after falling down some stairs and losing her unborn child. Justin Hitchcock is in Dublin to give an art lecture when he is persuaded to give blood. When Joyce finds she now knows all about architecture, can speak several languages and has memories that aren't her own, she begins to wonder about the person who helped save her life. Will they ever meet? There's no big twists but it's an enjoyable read. And Joyce's dad, Henry, is such a character (just loved the airport scenes) you'll be wanting to get along to his Monday Club.
---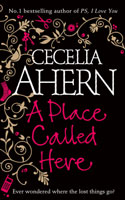 A Place Called Here (2006)
Where do things go when they go missing? The things we look high and low for? That exact question has disturbed Sandy Shortt since childhood, after a little girl in her neighborhood vanished without a trace. Sandy becomes obsessed with keeping track of every possession, to the point of addiction. She spends her life searching for things and people that are lost, but ends up ignoring the treasures in her own life, especially the man who loves her. While searching for a missing person, Sandy stumbles upon a strange place. A place filled with odd socks and lost luggage, missing people, and faded memories. At one point, she compares herself to Dorothy from the Wizard of Oz. She goes to a strange place, helps her friends, and finally comes to the conclusion that "There's no place like home." This is a delightful and strange concept but the first half of the book was slow and hard to get into. (CK)

---
If You Could See Me Now (2005) - Also known as A Silver Lining
Interior decorator Elizabeth Egan likes to keep everything organised. She has lots of responsibilities in her life, including bringing up her six-year-old nephew, Luke - son of her wayward sister Saoirse. Then Luke is befriended by Ivan. Elizabeth thinks he is one of his friend's fathers but there are much more magical elements at play.
---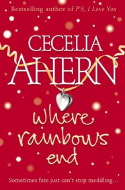 Where Rainbows End (2004) - Also known as Rosie Dunne
Rosie Dunne and Alex Stewart have been friends since childhood. Just as they are reaching their final year at school, they are separated when Alex's family moves from Dublin to America. Rosie finds she's lost without him and applies to go to college in Boston so they can be reunited. Except on the eve of her departure, something happens that changes her life forever. Through marriages, divorces and work trials, Rosie and Alex are there for each other. But are they meant to be more than just good friends? One of my all-time favourite books.

---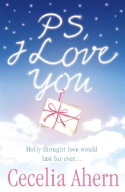 PS I Love You (2004)
Holly's husband, Gerry, dies from a brain tumour, just as she is about to turn 30. Her parents pass on a parcel from him, which has 10 envelopes in it - each one listing a monthly mission for her to get her life back on track. With some help from her friends and family, Holly finds she can still laugh, sing and be brave - as the love of her life helps her learn that life goes on.