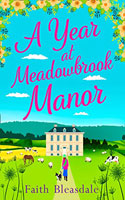 A father adds a clause to his children's inheritance in Faith Bleasdale's latest novel, A Year at Meadowbrook Manor. The summary says: "The Singer siblings are back at Meadowbrook Manor and their father has one last request...
Harriet Singer hasn't been home in ten years, her days focused on work and very little play since moving to New York. But when her father dies, Harriet jumps on a plane to England right away, planning to be heading back to NYC in the morning. But her father has other ideas ...
To gain their inheritance all four Singer siblings must live together at Meadowbrook Manor for one year, caring for the house and working at the Animal Sanctuary set up within the grounds. Having drifted apart over the years, the relationship between the siblings is at best fractured. But could trading in her high heels for wellingtons be just what Harriet needs to get her life back on track? Especially with her teenage crush back home too..." A Year at Meadowbrook Manor is out in January 2018.