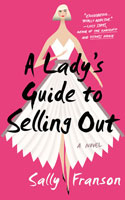 A Lady's Guide to Selling Out, the debut novel by Sally Franson, sees a young woman navigate the demanding world of advertising. The summary says: "Casey Pendergast is losing her way. Once a book-loving English major, Casey lands a job at a top ad agency that highly values her ability to tell a good story.
Her best friend thinks she's a sellout, but Casey tells herself that she's just paying the bills - and she can't help that she has champagne taste.
When her hard-to-please boss assigns her to a top-secret campaign that pairs literary authors with corporations hungry for upmarket cachet, Casey is both excited and skeptical. But as she crisscrosses America, wooing her former idols, she's shocked at how quickly they compromise their integrity: A short-story writer leaves academia to craft campaigns for a plus-size clothing chain, a reclusive nature writer signs away her life's work to a manufacturer of granola bars.
When she falls in love with one of her authors, Casey can no longer ignore her own nagging doubts about the human cost of her success. By the time the year's biggest book festival rolls around in Las Vegas, it will take every ounce of Casey's moxie to undo the damage - and, hopefully, save her own soul." A Lady's Guide to Selling Out is out in April 2018.
TEXT