INTERVIEW
April 2010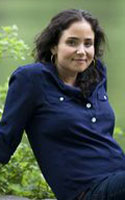 Zoe Fishman is a literary agent who lives in Brooklyn with her husband, whom she met on the subway after four plus years of trying to get up the nerve to say hello to him. Balancing Acts is her first novel. (Interview by Jarin Eisenberg)
1. What inspired you to write Balancing Acts?

I wanted to write a book about the kind of women I know and the struggles we were/are having. I just wasn't finding that in the women's fiction that I was reading. I also thought that yoga provided a sort of ideal backdrop for these struggles. As Charlie, Bess, Naomi and Sabine stretch themselves physically and spiritually, and slow down long enough to do so - they break through their own self-imposed limitations and begin to realize their true goals.

2. Which of the four women do you most relate to?

Sabine is most like me. She wants to write but is insecure about her talents and can't seem to connect with her motivation. That was me for a very long time - still is some days. Also, my now husband is my former "Subway Crush". I tweaked the story a bit for the book but it really happened.

3. One of the themes that really stuck with me was that society puts so much pressure on us to accomplish things by certain times in our life. Is this something you and your friends go through?

Oh, absolutely. I have gone through so many bizarre phases in my life, trying to figure out who I was and what I really wanted out of life. My parents used to joke that every time I came off the plane from college or New York, I was someone else. It took me a long time to become comfortable in my own skin and to truly understand what it was that made me happy. That's not to say that every day now is rainbows and kittens – far from it – but I think confidence in yourself and your goals makes life more enjoyable, because it's more about the journey than the destination.

4. Do you practise yoga in your personal life? How did yoga become the central force that brought these characters together?

To be honest, I am not a huge yogi but I do practise occasionally, and always am so glad that I did. My husband, on the other hand, is a huge proponent of the practice, and actually inspired me to give it a try when I met him three years ago. I went in cynical, and a few classes later, couldn't deny how good it made me feel. Whenever I leave class, I feel completely relaxed, refocused and soothed on both a physical and spiritual level. The alignment and the flow of the practice encourages our presence in the moment. I think that's why I chose yoga as the backdrop for these women's journeys. In class, they often accessed hidden thoughts that would otherwise be drowned out by the constant New York hustle, or stifled by their own inhibitions and cynicism.

5. Being a strong independent woman while also being a part of a relationship is another strong theme of the book. What kind of messages do you think girls today receive about these two desires?

You know, this is an interesting question because a lot of women in their 60s that I've spoken with about the book have made some sort of comment about "how different" women's lives and options are today. The pressure to settle down and have kids still exists, sure, but it's more on our terms. I think the idea of getting yourself right before expecting to meet your mate is more powerful than ever, and I am so happy that this is the case. If you can't make your own self happy, who can?

6. Female friendships are very powerful, however they can often be portrayed in a more negative light. How did you decide to write a very different story than the ones often presented to us through the media?

Oh that's an easy answer. I am beyond blessed to have the coolest, most authentic, smartest, funniest and thoughtful girlfriends in the world. They inspire me every day. People tell you to write what you know, so that's what I did.

7. What if Bess hadn't changed her mind about writing the article? Was there a particular message you were trying to convey with Bess' character?

Bess is so tightly wound – so angry and guarded. Yes, her story idea is initially conceived to advance her career, but it also provides a convenient shield for her to hide behind emotionally. I think she's experiencing most of her life that way when we meet her, but as her relationship with Dan strengthens and she begins to appreciate the practice, she sees what incredible women she's surrounded by; and how much their journeys are like her own. The moral of Bess' story is to embrace your own vulnerability – to own it instead of shoving it in the back of your closet. When Bess learns to really do that, she blooms.

8. Would you write a sequel?

Wow, I would love to write more about these women – see where they go. However, this was a one-book contract, so I have no idea if that is even an option.

9. What is next for you?

Right now I'm working on a novel that explores the brother/sister dynamic, and is set in the south. I'm really liking how it's shaping up thus far.

10. How do you describe the feeling of finally having your first book published?

Surreal/ wonderful/ grateful /exciting!

11. What's the best and worst thing about being a literary agent?

The best thing about agenting is calling your author and telling them that they have an offer. The worst thing is, after maybe your tenth round of submissions with no bites, telling them it's time to move on.

12. Which other authors do you admire and why?

Jhumpa Lahiri, Ann Lamott, Curtis Sittenfeld, Ann Patchett, Elizabeth Strout, Elizabeth McCracken and Kent Haruf, among others that I'm sure I'm forgetting. I admire them because of the purity of their craft - the beauty of their words and the human experiences they recreate in such a subtle way.
---
---