ZOE FISHMAN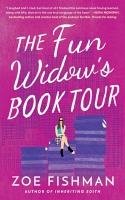 The Fun Widow's Book Tour (2023)
New Jersey author Mia hasn't had a lot of joy and excitement in her life since her husband died a few years ago. She has written a memoir about his death and amid some dispiriting feedback, it's now time to promote it.
Leaving her young sons under her father's care, she goes on a book tour to the cities where her friends live – to San Francisco to stay with her former flatmate George and her partner; to Chicago with college roommate Rachel; and to Atlanta to catch up with childhood friend Chelsea.
But as she brings her somewhat misguided insights to her friends' personal problems, she is also met with all the uncertainty of the arrival of covid in the US.
Influenced by the author's own experiences writing a book about grief after the loss of her husband, this was a short novel with plenty of self-reflection. Well-written, insightful but not a lot of fun.

---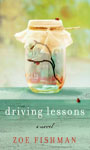 Driving Lessons (2014)
Sarah, a New York City to small town Virginia transplant, used to be a top executive at a famous cosmetics firm and now spends her days puttering around her dream kitchen. She is used to having her friends and family close by, but now is having a hard time fitting in with the people in her new town.
She followed her husband Josh when he accepted a residency at a college in town, with hopes of "getting away" from the hustle and bustle of the city.
Josh had hopes of not only enjoying the slow pace of the small town life, but of starting a family too. Which is something Sarah is unsure she will ever be ready for.
The only problem with leaving the "hustle and bustle" of the city for Sarah is the lack of public transportation. Sarah is too terrified to drive. Having avoided sitting in the driver's seat for over two decades, she enlists herself in some driving lessons to refresh her skills.
As her lessons progress, she finds that not only is she starting to get the hang of driving around her new town, but she's starting to enjoy and maybe even "find" herself again.
Everything is looking up for Sarah when turmoil suddenly strikes her friend back in the city. On her trip to visit, Sarah learns a few new things about the people in her old life she thought she knew well. What does this all mean for Sarah? Well you will have to read to find out!
Is it possible for a book to seem both fast paced, and too long? I lost interest in the book a few times which made me take a few weeks to get through it. It was interesting enough, but not something I couldn't put down, nor was it something that left me hanging off the edge of my chair. But it was a nice palate cleanser before my next read. (AV)

---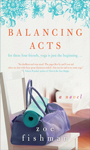 Balancing Acts (2010)
For anyone who has ever struggled with the "balancing act" involved in being a woman, this is the book for you. Charlie, Sabine, Bess and Naomi, four women who meet up again at a college reunion, are characters that any woman can identify with.
Charlie, once a big name on Wall Street, gave up her high-powered career to open a yoga studio. Trying to let go of a past love, Charlie centres this story through her poise, charm and genuine desire to achieve happiness through being at peace with herself.
Sabine, an editor at a publishing company, spends her weekends reading through other peoples' work while contemplating her own desire to write. Her less-than-exciting love life takes a fateful turn when she has the chance to get to know her secret crush, a man she sees on the subway every morning.
Bess, a journalist stuck in a job that has her commenting on celebrity gossip, struggles with following her heart and moving to LA to be with her boyfriend, Dan, and staying in New York and not abandoning everything she has worked so hard for.
Naomi, a once successful photographer, now finds herself designing websites and taking care of her son, Noah. When Noah's father enters the picture after many years, Naomi has to decide if she can let go of the anger she has been holding towards him.
The four women meet once a week at Charlie's yoga studio and the lessons they learn through practice brings changes to their lives outside of the studio. Prepare to set aside enough me-time as this is a real page-turner. (JE)