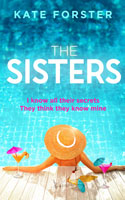 The Sisters, by Kate Forster, is about dark family secrets. The summary says: "Wealth and privilege can't buy you love ... or keep your secrets safe.
The de Santoval sisters are heiresses to a glamorous fashion house, and the darlings of LA society.
Violetta is the hottest reality TV star of the moment, with a fierce press interest to rival Hollywood's A-list. Carlotta is an exclusive horse trainer, as wild as the stallions she breaks in. Fine-arts consultant Grace is hiding a dark secret she must keep hidden at all costs.
Their mother, wealthy fashion maven Birdie De Santoval, lies unconscious following a mysterious accident. Blame soon falls on their powerful but ruthless tycoon father, the missing Leon De Santoval.
Beneath the ritzy facade of the de Santoval family lies a web of deceit and betrayal that hides a secret that threatens to destroy them all..." The Sisters is out in November 2018.
TEXT