INTERVIEW
May 2010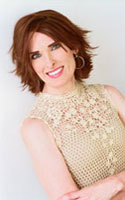 Missouri-based author Susan McBride moved into contemporary women's fiction with her 2010 release The Cougar Club. She is also an official member herself, having married her younger man in 2008. She has also written the Debutante Dropout Mysteries, including Blue Blood and Too Pretty to Die, and The Debs young adult series. Visit SusanMcBride.com for more information. (Interview by Angela Smith)
1. Tell us about The Cougar Club.

The Cougar Club is my debut in women's fiction, although I'd written five chick lit mysteries for HarperCollins previously (the Debutante Dropout series starting with Blue Blood) and several young adult non-mystery novels for Random House (The Debs series). It was a blast to finally write about protagonists who are my age and going through so many things women experience as we get older. The Cougar Club centers on three childhood friends, Kat, Carla, and Elise, who come back together at 45, after careers and families (and Kat's case, distance) have kept them apart. Each is having a sort of mid-life crisis, and they support each other when they need it most. I'd like to think the novel is reaffirming in that it shows that life doesn't end after 40 - in fact, sometimes, it's just beginning! - and that true friendship is priceless.

2. What inspired you to make your character a "cougar"?

In the first draft, there was more of an actual "cougar club," and it was about these women who date younger men networking and empowering themselves. But the final draft of the book ended up being more about Kat, Carla, and Elise coming into their own - with their jobs and with their hearts - and finding happiness. I'm an "accidental" cougar, in that I married a man nine years younger but I didn't chase him - he chased me! Since The Cougar Club came out, I've heard from lots of women who've been chased by younger guys. I've also heard from women who say, "I'm over 40 and newly single, and your book gave me hope!" I love that! I just wanted to show characters who are over 40 and have a lot of life left in them. The fact that they have brushes with younger guys in their romantic lives is incidental to the plot.

3. Who do you relate to most - Kat, Carla or Elise?

Honestly, I love them all and relate to each one in a different way. I find Kat a lot braver than I am and more adventurous. She's the glue that holds her friends together, and I adore that about her. She does share my sarcastic sense of humor! Carla is very brassy, very career-oriented, and quick to say what's on her mind. I'm a wee bit less brash than she is, although I admire her bravado. Elise is more introspective and family-oriented, which feels a lot like me, but she's less willing to confront people when she knows something's wrong. I'm very much a "let's talk about this and get it over with" kind of girl.

4. Did you find the writing process difficult in general?

The first draft is always the hardest, just getting the idea down on paper. So the revision of the book was the most fun, because I had all the characters figured out. I just had to rework the plot and concentrate more on the three women and their friendship rather than the whole "cougar" thing. Once I did that, everything fell into place. I know I said this already but it was great writing about women my own age. It felt very natural.

5. Did you ever experience writers block? If so, how did you alleviate it?

When I feel stymied by a scene, I get stuck sometimes. It's hard to push forward until I fix it. Usually, if I talk it out with my mom or my husband - or if I sleep on it - I'll see what's wrong. I love when I've gone to bed worrying about the scene, and when I wake up in the morning I know just what to do! That happens more often than not (thank goodness!).

6. Other than writing what other jobs have you had?

Before I could support myself full-time with my writing, I was a medical transcriptionist for a dozen years. I fell into the job after college and learned how to do it on the spot. I'm a very fast typist and caught onto the terminology quickly, and I could work part-time and pay my bills. So that left more time to write. My major at the University of Kansas was public relations, and that's been very helpful when it comes time to promote a book.

7. What do you think is your greatest strength as a writer?

Hmm, good question. I'd say my characterizations. I love when readers tell me the people in my novels feel real to them. Then I know I've done my job!

8. Did writing The Cougar Club teach you anything?

Yes, it reminded me that I write best when I listen to my gut and don't try to plan too far ahead. Writing is very instinctive and magical for me. If I have a general idea of where I'm going and can just fly by the seat of my pants, I'm happiest.

9. How much of your novel is realistic or based on your own experiences?

You know, most of what I write comes strictly from my imagination but occasionally bits and pieces of real experiences or places get mixed in. The setting of The Cougar Club is my current hometown of St. Louis, so all the locations are real. The rest is pure fiction.

10. Is there a message you want readers to take with them after reading your novel?

My hope is that, after finishing The Cougar Club, readers feel good about themselves, no matter their age, and realize that life's all about finding your passion, whether it be romantically or professionally. You're never too old to follow your heart or your dreams

!

11. What books have most influenced your life?

Gosh, that's a tough one to answer. For sure, the Nancy Drew series, which I gobbled up as a kid in the '70s, inspired me to write mysteries. I loved historical fiction, too, and read a lot of John Jakes and Karleen Koen's Through a Glass Darkly. Those books made me want to write an historical romance, which I did when I was 19 and between transferring colleges. I've always been a huge reader, so there were always books that motivated me throughout my life, too many to name on the spot.

12. Which fictional character would you most like to have met?

Scarlett O'Hara from Gone with the Wind. She might look like a cupcake on the outside; but on the inside, she's tough as nails. If only she'd understood that Rhett was her perfect match earlier on. Sigh! She would've saved herself a lot of angst.

13. What are you reading at the moment?

I just finished Dog On It, which was fun. It's a mystery told from the point of view of a dog owned by a private eye. I loved Girl in Hyacinth Blue by Susan Vreeland, and I've got The Passion of Artemisia (another Vreeland book) in my TBR pile. I'm in the middle of The Archivist, which is interesting and very heavy on characterization.

14. What do you do to unwind and relax?

I love to read, go to movies, take walks, and hang out with my husband. Ed is so calm and relaxed that I feel happier and less stressed out just being around him!

15. What is your favourite and least favourite qualities about yourself?

My anxiety is my least favorite thing! I'm a natural-born worrier. If I don't have something to worry about, I'll find something! I wish I could just let things go, and I'm working on that. My best quality is probably my energy and my eagerness to accomplish things. I'm a go-getter so it's hard to sit still. My husband wonders how I get any books written! He calls me a human tornado.

16. What are you most proud of accomplishing so far in your life?

When I look back on the last 11 years since I was first published, it's incredible to think I've written 11 novels for various publishers and in three different genres: mystery, young adult, and women's fiction. That feels great! But I'm most proud of the fact that I survived a health crisis and didn't let it slow me down. It's so scary to be told "you have breast cancer" and realize that, for awhile, that's going to supersede everything. I was really determined to keep my life on track despite that diagnosis, so I planned Ed's and my wedding during that time and met two book deadlines. I'm not sure how I did it but the fact that I did makes me feel so much stronger, like I can do anything if I put my mind to it.

17. If you were stranded on a desert island, what three material things could you not be without?

Um, could I take my husband??? He's more important than material things! But if I couldn't, it would be our wedding album, a copy of Gone With The Wind, and a working radio transmitter so I could call for help!

18. What's next for you?

I've just signed with HarperCollins to write two more women's fiction books (hooray!). The first of those will be Little Black Dress, about three women in one family and a magical little black dress that affects all their fates. It's kind of like a grown-up Sisterhood of the Traveling Pants, in a way, but alternates point of view between two generations – a mother and a daughter - which is cool. It's different than anything I've ever done so I'm very excited!

19. What is your advice for aspiring writers?

I'd definitely suggest that they read a lot and not in just one genre. See what's out there, how different authors tell their stories, and learn from what works. Then write and write some more. Like any other profession, practice makes you better. I'd written 10 manuscripts in various genres, from various points of view, before I was published. It takes awhile before you find your voice so don't give up. And don't rush it! Writing books isn't fast food. Sometimes things have to simmer for awhile before they're ready for consumption.
---
---