SHEILA O'FLANAGAN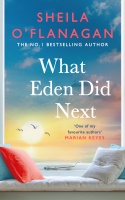 What Eden Did Next (2022)
It's been five years since Eden's firefighter husband, Andy, died on the scene, before he knew that she was pregnant with their daughter Lila.
His family, especially his mother Valerie, have been fantastic at helping her out and including her and Lila in their gatherings.
When Eden goes to work as a carer for a client who lives in a tight-knit neighbourhood on Sycamore Grove, she bumps into someone from her past. But is Eden ready to move on – and more to the point, will Andy's family accept that?
This was a heartwarming read about moving on after loss, as Eden learns to deal with the guilt she feels about taking that next step as well as the obligation to the family who supported her. I quickly became enmeshed in the lives of the colourful cast of characters, and would love to see some of the Sycamore crew in another book.

---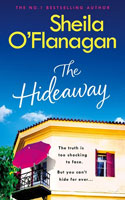 The Hideaway (2018)
Juno is distraught when she finds out her boyfriend was living a lie. Taking time off from her radiologist job, she heads to a friend's family villa in Spain for a few months to get her head together again. As Juno settles into life at the villa and gets to know the locals – and a stray cat – she continues her journey of recovery.
The setting of Alicante was delightful and evocative, as the author works in some of its dark history. The book includes a rich array of characters but the story was perhaps too drawn out and just not as satisfying as expected.

---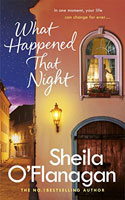 What Happened That Night (2017)
This story revolves around Lola and her daughter, Bey, and their connection to a wealthy Dublin family. Lola works in a passport office and has visions of rising up the ranks. But then she meets Philip, the heir to the Warren's jewellery stores. Years later Bey makes a reckless decision that ultimately changes her. But she too strives to become a big success in her field.
This book was totally different to the one I expected, in a good way (it's more a family saga over several decades). It's a well-crafted story with a sparkling mix of family dynamics and dreams, rivalry and romance. Kept me engrossed over a couple of days.

---
The Missing Wife (2016)
When Imogen accompanies her boss on a business trip to Paris, she uses the opportunity to put The Plan into action and disappear. Covering her tracks from her controlling husband, Vince, she heads to the place she spent time at as a child, when her mother was a housekeeper to the Delissandes family at Villa Martine. As Imogen forges a new life for herself, Vince believes she can't survive without him and is trying to track her down.
This is a story of a woman's journey to find herself again by reconnecting with her past – all with a beautiful French setting. Because of the ominous shadow of that appalling husband of hers, it became a riveting read.

---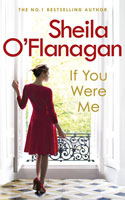 If You Were Me (2014)
Carlotta is a high-powered businesswoman, flying in and saving companies by finding efficiencies and sometimes recommending redundancies. Carlotta, who has given up on finding heart-pounding love, is planning a simple wedding to Chris, an eye doctor, and is happy with her choice. Neither care about the location or all the fuss - just the vows. But Chris' mother does not accept Carlotta as a future daughter-in-law so it surprises her when the grand dame steps in to organise their reception when the hotel falls through. But then everything changes once Carlotta travels to Spain on business. The never-forgotten first love Luke appears in Seville. Friends first, the two of them reconnect and then in the last minute before the train leaves - he kisses her. All her feelings come back and she begins to question her life and her love for Chris. With no way of reaching out to Luke, she struggles to decipher the meaning of the kiss with her best friend Sivi. Her friend is very critical and urges her to leave her feelings for Luke behind by going back to Seville - she believes if Carlotta seems him one more time she will realise that her feelings are not real. What will Carlotta do? Marry Chris? Find Luke? Walk away from everything?
This engaging book includes lovely details about Spain which will make you want to visit very soon. (MS)

---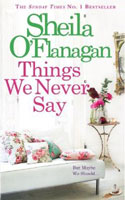 Things We Never Say (2013)
This novel focuses on two separate storylines set in Ireland and California, which are eventually entwined. In Ireland, we find the Fitzpatrick family, who are devastated after the sudden death of patriarch Fred. His children Donald, Gareth and Suzanne are not necessarily devastated by the fact that their father is no longer amongst them; it is his will that has left them most distressed. The reason for this can be found on the other side of the world in San Francisco. Abbey Andersen has a good life: she loves her job as a nail technician, she has a nice apartment with her boyfriend whom she loves very much, and she has great friends to support her. However, when her boyfriend suddenly decides to leave her behind with several debts, Abbey's life suddenly doesn't seem so good anymore. When out of the blue an Irish investigator shows up to tell Abbey her family history also isn't exactly what she thinks it is, she is forced to make some decisions that will not only affect her but also those around her.
Abbey is a lovely character who I found myself rooting for from the start. Numerous other diverse characters with their own individual personalities are introduced and each one adds something specific to the storyline. I felt the main part of the novel took up too many pages; the story seemed a bit slow at times, and I would have preferred fewer pages or perhaps a more extensive romantic storyline for Abbey. Overall, Things We Never Say is an intriguing and enjoyable novel all about family dynamics. (JoH)

---
---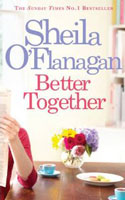 Better Together (2012)
Sports reporter Sheridan loses her job during a restructure of her Dublin newspaper. Never feeling like she's lived up to the successes of her two sporty brothers, she blames her job loss on new owner Paudie O'Malley. Sheridan eventually picks up a temporary job on a small-town newspaper in Ardbawn, where Paudie is from. She thinks she might make it back into the big leagues by doing an expose on the business tycoon, whose wife Elva died in mysterious circumstances. Sheridan moves into the bed-and-breakfast run by Nina, whose actor husband has just left after having a fling with a co-star. But will she pursue the story when she realises how much it might cost her?
This is another pleasurable read from O'Flanagan, with a likeable heroine and a solid mix of romance and intrigue.

---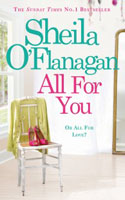 All For You (2011)
Lainey has always loved everything to do with the weather. So it's not surprising that she's ended up as a TV weather forecaster. Lainey was brought up by her grandparents in Ireland while her mother, Deanna, was making her name as an outspoken feminist in the US. With two broken engagements behind her, Lainey is determined not to rush her latest boyfriend, Ken, into a commitment before he is ready. And now her mother is coming back to Ireland, and as usual Lainey doesn't feel like she measures up to her mother's definition of success. Lainey has a stormy patch ahead as family secrets are revealed and she weighs up her vision of happily-ever-after against her friends'.
With an endearing heroine in the beautiful Lainey, this is a novel full of warmth (despite all the rain). And the best bit - it doesn't end in a cliched way.

---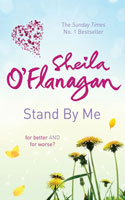 Stand By Me (2010)
Dazzling Domino, as Dominique Delahaye is known, is the wife of a wealthy businessman and on the outside has the perfect life. She and her husband have always stood by each other no matter what obstacles they've faced in their marriage. Yet as her perfect world begins to come crashing down around her, Dominique - for the first time in her life - has control over her own destiny.
Spanning Dominque's adult life, the novel jumps through her pivotal moments, weaving the story of where she came from and how she ended up as the famous dazzling Domino. By jumping through the years you get a great insight into her character and why she makes the decisions she does. It's a brilliant book about relationships between lovers and within families, and how they cope with the decisions they make in their lives. (AB)

---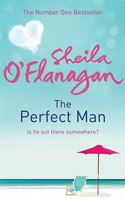 The Perfect Man (2009)
Mia is set to accompany her sister Britt on a Valentine luxury cruise through the Caribbean. But neither woman feels in a particularly romantic mood. Britt, aka bestselling romance novelist Brigitte Martin, is one of the guest speakers on MV Aphrodite. But she's actually a hard-headed divorce lawyer who wrote The Perfect Man to help her get over her own divorce from actor Ralph - and finds herself ill-prepared to talk about writing a romance novel. Mia is a single mum who is living in Spain with her three-year-old daughter. She still holds a flame for the love of her life Alejo, who doesn't even know he has a daughter. And romance seems very unlikely for either of them as one of the only lone men aboard the ship, Leo, is still dealing with a past heartache - and has caught the eye of a wannabe model on the hunt for a rich husband.
A pleasant escapist read that wasn't at all predictable - although I never want to read about barometric pressure again!

---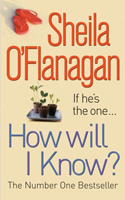 How Will I Know? (2008)
Claire met Bill, the love of her life, when she was only five years old. The two of them were virtually inseparable from then on, getting married and welcoming their daughter, Georgia, to the world. However, their fairy-tale romance was brought to a tragic end when an accident took Bill's life. It has been three years since Bill's death, and Claire is beginning to realise that it is time that she let go of the hurt and guilt that has plagued her since the day she lost her husband, if not for herself, then for her daughter. Now 15, Georgia is starting to ask questions about boys and dating, and Claire doesn't have any answers since she married her childhood sweetheart. So she decides to step out into the dating scene, trying everything from online dating to singles events like Dating in the Dark. As Claire gets to know a string of suitors, she quickly learns that not everyone is as they seem, including Nate, the gruff gardener.
With an interesting cast of supporting characters, How Will I Know? is a pleasant read about coming to terms with loss and having the courage to embrace second chances. (LB)

---
Someone Special (2008)
Romy, an archaeologist living in Australia, is called home to take care of her mother, Veronica, who is undergoing back surgery. Romy has always felt like the odd one out in her family. She and her mother have never seen eye-to-eye; Veronica is preoccupied with appearances and maintaining her youth, while Romy has no concern for fashion or glamour. Romy's step-siblings, Darragh, who runs the family business in Ireland, and Kathryn, who lives in New York City, have always dismissed her and have no regard for either her professional or personal life. When the entire family is reunited in Ireland, they must confront the issues that have driven them apart throughout the years.
Unfortunately, I found the entire premise of the book implausible. Why would Romy have to come home when Veronica's cherished son lives close enough to care for her? I also found several characters unlikable; Veronica is superficial and cold, Darragh is more concerned with money than he is his family, and his pregnant wife Giselle values her appearance more than her baby's health. Furthermore, based on the title, I would have expected more of a romantic element. While Romy does kiss her best friend Keith goodbye before leaving Australia, and subsequently wonders if there is more to their relationship, that storyline is only really explored at the very end of the novel. There is a twist in the last 100 pages or so that reveals Kathryn's struggles and increases the pace of the storytelling; I just wish that it had occurred sooner. Someone Special pales in comparison to O'Flanagan's other wonderful novels. (LB)

---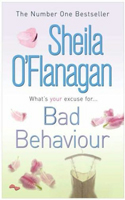 Bad Behaviour (2007)
Nestled among Darcey's birthday cards this year is a fancy invitation to the wedding of her exes - her ex boyfriend Aidan and her ex best friend Nieve. Both now live in the US and work in high-flying careers for a financial company - but Nieve is planning her fairytale wedding back in Ireland, in a castle surrounded by flowers. But why does she want Darcey, the friend she hasn't seen for years, to attend? And can Darcey put the hurt caused by her two closest allies behind her and wish the newlyweds well?
This is an enjoyable read about vulnerability, betrayal and broken ties set amid the corporate world. For those who like stories about friends gone bad.

---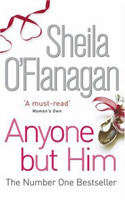 Anyone But Him (2004)
Andie and Jin Corcoran are about as different as two sisters can be. Andie leads a simple life as a music teacher and is content with her secret relationship with Tom, her married lover. Jin, on the other hand, is an ex-model living a life of luxury with her rich husband, Kevin. When their widowed mother, Cora, returns from a vacation with a new love interest, Jack, who just happens to be a young man their own age, the sisters unite in their dislike of him. Suspicious of Jack's motives, Andie and Jin set out to prove that he is not who he says he is. Of course, their mother's new beau is not the only problem they are facing. Andie must confront the fact that Tom may never leave his wife, and Jin is suddenly yearning for a baby despite the fact that Kevin has had a vasectomy. As the story unfolds, the sisters find themselves re-examining not only their own lives but their relationship with each other.
There are a few things in this book that are far-fetched, including Jack's unconventional career path and some of Andie and Jin's more questionable interactions with him. I also thought it would have been nice to see more of Jack and Cora's relationship since that is the foundation of the story. However, this is a fun read that doesn't follow the cookie-cutter approach to a happy ending, which is refreshing! (LB)

---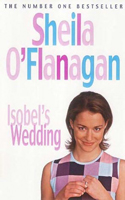 Isobel's Wedding (1999)
Isobel has just tried on her gorgeous wedding gown when fiance Tim announces he's not ready for marriage. Isobel is heartbroken as she cancels all the arrangements and heads off on what should have been her Mediterranean honeymoon with her friend Julie. Needing a fresh start, Isobel takes up a job offer in Spain and makes up for lost time on the men front. As she starts finding her feet, both in her training job and with new boyfriend Nico, she is called back to England, where she finds Tim is having second thoughts again.