INTERVIEW
February 2012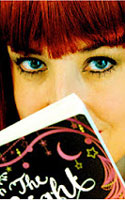 Scarlett Bailey is the author of The Night Before Christmas and her next novel Married By Christmas is out in October. She has worked as a bookseller, waitress, barmaid and cinema usherette. She lives in England. (Interview by Swati Sharma)
1. Describe Lydia in 10 words.

Lydia is imperfect, passionate, determined, lovable, loyal, romantic, wistful, tough, funny and fabulous!

2. Tell us about how the idea for The Night before Christmas came about?

I wanted to write a really Christmassy book, I had the idea for Lydia knocking around in my head for ages, but it seemed like fun to take a group of characters, stick them in the middle of nowhere, stuck in snow and then drop a huge spanner in the works!

3. Why did you choose Christmas as the setting for your first book?

I love Christmas, it's my favourite time of year, and there is so much material and potential in a story set at a time of year when emotion and expectations are so heightened and everyone really feels like they should be happy!

4. Have you ever been snowed in?

Yes, I have been snowed in last year, it's quite fun until you run out of wine.

5. How did your publication deal come about?

I was lucky enough to get a great agent based on a proposal and a chunk of the book, we submitted it from there, and just at the right time Ebury were looking for a Christmas book too, and liked my idea, so it was all quite harmonious.

6. What did it feel like to first hold a copy of your book in your hands?

It's an incredible thrill, I had tears in my eyes, and I still can't quite believe it!

7. How did you get into writing? Did you always want to become a writer?

I did always want to be a writer, but then you know, so does everyone, don't they? I wrote a lot for fun, but put off trying to write professionally for a long time because it just seemed really hard and I wasn't sure I had what it took. Eventually I decided to stop thinking about it and actually try and do it.

8. What do you know now that you wish you knew when you first started writing?

Not very much more than when I started – except that you can move a character from scene to scene with a line break and you don't have to describe their bus/car/train journey that gets them there. That was an obvious, but really essential tip!

9. What are your favourite chick lit books?

I really love Marian Keyes, she's my ultimate chick lit writing hero, also Trisha Ashley, Miranda Dickinson, Cally Taylor – they've all been so lovely to be too, as the new girl on the block.

10. What is your favourite rom-com movie?

When Harry Met Sally or His Girl Friday. Love both of those films.

11. Can you tell us little about what you are working on at the moment?

I'm trying hard to finish my next novel called Married by Christmas – it's about Anna, who finds out two weeks before her Christmas Eve wedding that her boyfriend was harbouring a massive secret!

12. What are your plans for the year?

To try and keep writing.

13. What advice would you give to an aspiring novelist?

Try and keep writing! Don't give up, write as much as you can, even when you don't feel like it. When you are ready to submit, do your research, find an agent that will be interested in your sort of work, tailor your submissions, and only send out two or three at a time.
---
---