INTERVIEW
March 2010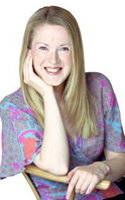 Sarah Webb is the author of nine bestselling novels including her latest, The Loving Kind. She also writes the Ask Amy Green series for age 10+ and books for younger children. Find out more on www.sarahwebb.ie. (Interview by Shirley Benton-Bailey)
1. Tell us about your latest women's fiction book, The Loving Kind.

The Loving Kind is about Libby Holliday, aka romance writer Elizabeth Adams, who has been dumped by her agent and publisher and then finds her fiance has been having an affair with one of her friends. She lands the job of ghostwriting a novel for an Irish model, Lulabelle Ryan, who proves to be rather a handful. Lulabelle is addicted to plastic surgery, so Libby gets more than she bargained for too!

2. You also write books for other genres. Do you have any other books out at the moment?

Yes, I write for children and teenagers. The second book in my Ask Amy Green series has just come out – Summer Secrets – for age 10+, about a teenage agony aunt. And I have an early reader out called Emma the Penguin.

3. What inspired you to begin to write?

My love of books really, and also a burning need to pay the bills. I was a single mum for many years and needed to find something I could do in the evenings while my son slept!

4. How many books have you released since you began your writing career?

27 in total.

5. How long does it take you to write each book?

I write 2000 words a day and tend to do quite a bit of rewriting. So about a year for the adult books in total and six months for the children's ones.

6. Do you plan your books meticulously, or just start with an idea and see where it takes you?

I plan a good bit but I also allow the plot to go in different directions if it needs to. But I do like to have some idea where the story is leading.

7. Do you prefer writing in the first or third person?

First at the moment. But I write in both. Emma the Penguin is third, Loving Kind and Amy Green are both first.

8. Which one of your characters (in any of your books) do you identify with the most?

Amy Green really – she's quite like me when I was 13.

9. What do you think is your unique selling point as a writer?

Jeepers, honesty maybe? Have never really thought about it!!!

10. Describe your career as a writer in three words.

Exciting, terrifying, satisfying.

11. Is there any contemporary women's fiction book you wish you'd written yourself?

I wish I'd written Are You There, God? It's Me, Margaret by Judy Blume – it's genius. And maybe the Shopaholic books – simple idea, beautifully executed.

12. What's the best piece of writing advice you've ever received?

Glue your bum to the seat and get on with it.

13. What are you working on at the moment?

I'm working on book 4 in the Ask Amy Green series at the moment and having a ball with it!
---
---