INTERVIEW
February 2010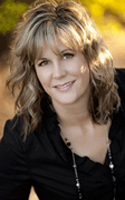 Rebecca L. Boschee turned a bad customer experience into her debut novel Mulligan Girl. She lives in Arizona. (Interview by Christy Goldstein)
1. What inspired the Mulligan Girl storyline?

I once had a job similar to Ren's. Maybe not quite so glamorous, but I did pay a lot of attention to the 'customer experience'. It became habit. When you start paying attention to that sort of thing, it's easy to spot flaws and to have unrealistically high expectations. There are some outstanding establishments - from local taco stands or doughnut shops to posh shoe stores and five-star resorts - who manage to exceed them. That's where the trouble starts, because you begin to compare all service against the possible service you could be getting. And you tend to get picky. I figure a business should consider feedback a gift, so I was writing to the senior leadership of a store when an idea struck me. I'd had really poor luck getting any sort of response to letters in the past. So I decided, why bother? I like to write, so why not spend my energy writing about the customer experience in a more productive way? My very next unsatisfactory experience was while, in fact, ordering a golf gift certificate for my wedding anniversary. The resort did make a mistake with the order and I ended up empty-handed on my special day. They had excellent recovery though, so it was easy to forgive them - after all, everyone deserves a mulligan. I thought maybe I'd draft an article about it and try to sell it to the local paper, but the article was boring. I put a spin on it and made it into a first chapter instead. From there, the novel just fell onto the page. I guess I had a lot of pent-up opinions about the customer experience just waiting for their turn in the spotlight.

2. Why will your readers like Ren and Adan?

I hope they'll like Ren because, though her life seems perfect on the outside, she's a little imperfect in a lot of ways that make her easy to relate to. There's a quirky side to her I hope will amuse them. Adan is the all-round good guy determined to do the right thing no matter what his personal cost. But, he also has a touch of a delicious wickedness and isn't above playing a little ruse of his own when he finds out about Ren's.

3. Do you play golf?

I have occasionally golfed. On those occasions, I've been lucky enough to be in very patient company. I really enjoy the golf experience, but I could not by any stretch of the imagination call myself a golfer. I do love golf resorts. They're beautiful, inspiring and often have fantastic spas, which is where you'll generally find me, inside a hydrating body wrap.

4. What was your favourite scene to write?

My favorite scene to write in Mulligan Girl was the one that takes place near the fountain at the outdoor Scottsdale shopping plaza. It wasn't in the original version of the novel but I felt I needed another scene to bring Ren and Adan closer before the big 'accident'. It was fun to write because the whole scene highlights all of Ren's most embarrassing qualities and sense of absurdity, and it was a chance for Adan to play the hero to her damsel in distress (or for his dog to, at least). Plus I got to do some shopping research, which was really no chore at all.

5. What is your idea of great customer service?

As I'm sure you can tell by my answer to your first question, I could go on and on with this one. It's much better if I don't. For me, great customer service involves trying to build far-sighted relationships, being truly present, and knowing when to break the rules.

6. What have you got planned for your book launch?

Mostly I'm planning local book signings and book club visits. Spring is a great time to do signings in the Phoenix area because we've got so many winter visitors. A lot of them play golf or are attracted by local events such as the Phoenix Open. Not a bad time to be launching a golf-themed book. I'll also be doing a signing at a really great local Irish pub, which also ties nicely to my theme. Event details can be found on my website at www.rebeccaboschee.com.

7. How did your book deal come about?

I finished Mulligan Girl in October 2007 and started querying literary agents, looking for representation. I got a decent number of requests for the manuscript but ultimately was rejected. A lot. Don't believe anyone who tells you this is an easy business to break into. But, I'm persistent. I believed in my story, so I figured somewhere, someone would be as enthusiastic about it as I was. After 10 months of rejection I started querying publishers directly. Don't get me wrong, it's no easier to be picked from the publisher's slush pile than from a literary agent's, but at the time it felt like the right thing to do, and I'm glad I did. I chose to submit to Avalon Books because of the wholesome reads they represent. My book felt like a good fit there. Shortly after sending the original query I got a request for the full manuscript. Five months later I got a call from Avalon telling me they thought the story was hilarious and wanted to buy it. I had the most enjoyable experience working with Avalon. It was a very merry Christmas that year!

8. What is your next novel Last Resort about?

It's about an introverted college girl who works part-time in the corporate headquarters of an international travel sales company, but after she's 'right-sized' from her job and her boyfriend walks off with her tuition money, she becomes desperate and accepts a temporary job at one of their resorts. She packs her bags and heads for a behind-the-scenes world that resembles high school on steroids, only where everyone is popular and no one seems to have any inhibitions. At Encantadora, she unwittingly comes head-to-head with Jackson, the guy of her dreams-turned-nightmare now that she no longer trusts men, particularly toe-curling, spine-tingling, good-looking men. Jackson has his own troubles, having inherited a thriving small business after the unexpected death of his father. He's looking for an escape, not love. Of course, they're drawn to each other despite their best efforts not to be. When a little misunderstanding causes a big shake-up, Lila has to decide if she's willing to place her trust in Jackson and take a deep-sea plunge with her heart, or if she'll let paradise slip away like so much sand through her fingers. It's a clean, fun story filled with colourful characters and an insider peek at what resort life can be like.

9. What's the best and worst thing about living in Arizona?

Is there a worst thing about living in AZ? If there is, I haven't found it yet. Even the heat in the summer beats the winters I grew up with. The best thing to me is the stunning natural beauty. My daily drive down the freeway takes me past some of the most amazing landscape - layers upon layers of mountains, clear skies dotted with colorful hot air balloons, wildflowers blooming roadside, sunrises and sunsets that make your skin tingle - and this is in Phoenix. Take any road out of the city and you've got breathtaking beauty in every direction. Talk about an inspiring place to write about! I also really like that many of the people here are from other parts of the country or world. We're largely a city of transplants.

10. What is the best book you've read recently?

I enjoy such a breadth of genres I can think of a dozen authors and titles off the top of my head that could fit this bill. I do love books that make me laugh. Sophie Kinsella never disappoints. Janet Evanovich's books are slap-my-knee-laugh-out-loud funny. But then I also love young adult stories. I practically gobbled up The Hunger Games (pun semi-intended). I could read From the Mixed-Up Files of Mrs. Basil E. Frankweiler a half-dozen times, and have. I think the real answer to this question depends on what I'm reading 'right now' because that is typically the book I cannot put down.

11. What is the best vacation spot you have visited?

I've spent a good chunk of time traveling the globe on vacation. The spots I return to are Tahiti and the South of France. They are both such picturesque places, and the French really know how to enjoy themselves. The art, the food, the wine, the espresso, the confections. my idea of heaven.

12. If you could go anywhere in the world to see golf courses, where would you go?

Despite the fact that part of Mulligan Girl is set in Ireland, I've never been there. It's definitely one of the places I'd like to visit before I die and, hopefully, a heck of a lot sooner than that. I would love to see Lahinch Golf Course and stay at a quaint inn in Adare. I spent long hours gazing at photos of the lush green against the crisp blue of the Atlantic, imaging what it'd be like to really be there.

13. When did you know you wanted to be a writer?

Second grade. I was mesmerized by Laura Ingalls Wilder's Little House in the Big Woods. My teacher read 20 minutes of it aloud to the class every day and I was entranced by the language, the way she could make me smell the pork in the smokehouse, taste and feel the crystallized maple 'candy' setting in the cold snow, hear the notes of her pa's fiddle. Then Scholastic lost my book order and the teacher felt sorry for me and let me pick any book I wanted from the classroom. You can guess what I picked. It was my first chapter book and I loved it. I wanted to be able to tell a story like that. It was the start of my dream. When I was about 13 I tried to write a novel - pretty much a soap opera drama. I even did extensive character sheets, writing out profiles and cutting photos from magazines so I could 'see' my characters and their motivation. After about 200 pages, I stopped writing it. Life got in the way, I guess, which is a good thing because I'm pretty sure it was just terrible. But it planted a seed that I could do it if I wanted to.

14. If you were not a writer what would you want to be?

I wouldn't mind Ren's job too much!
---
---