REBECCA CHANCE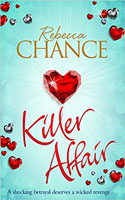 Killer Affair (2017)
Dowdy blogger Caroline can't believe her luck when she is hired to ghostwrite a memoir for reality TV star Lexy. She soon begins to hanker after Lexy's glamorous lifestyle and husband Frank. But ambitious Lexy hasn't played a calculating celebrity game all these years to now allow a back-stabbing minion get away with ruining her life. Let the bitchy battle begin!
It's been a while since I've enjoyed such a titillating and riotous read. The author did an awesome job of making you root for particular characters and it was great to read about the facade behind celebrities and publicity. Plus I enjoyed the fact the story was partly set in Bournemouth and Poole, where I once lived (in a much less fancy area!).

---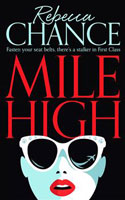 Mile High (2015)
It's the inaugural flight of PureAir's new luxury airliner LuxeLiner and this will be its showcase, a spectacular maiden voyage from London to LA packed with celebs. These include the hottest female superstar around, Catalina, Oscar-nominated actress Jane Browne and playboy chef Danny Zasio. Overseeing it all is PR guru Vanessa, who's planned it all meticulously and even the airline's CEO Lord Tony is aboard.
The cabin crew, who have been especially selected for this prestigious role, includes imperious Lucinda and her loyal sidekick Karl as well as new recruit Angela, who (horror of horrors!) has been headhunted from a budget airline. The flight from London to LA will take 10 hours but this is going to be one unforgettable journey, especially when there's a stalker on board.
Rebecca Chance gives new meaning to the mile-high club in this jam-packed tale. Setting her novel primarily at 30,000 feet is a stroke of genius, and the exclusive VIP world brings that added pizzazz. Chance swaps little kids kicking seatbacks and drunken stag parties for celebs and high rollers and it's a fascinating glimpse into life in the skies. She splits the narrative between the onboard action and the land-based events leading up to the inaugural flight, but it's definitely the onboard antics that prevail.
And the story involving Catalina is the strongest of these. Unfortunately, I wasn't as engaged by Jane's story and the subplot with a murderer was rather inconsequential. However Catalina's story is more than compelling enough and Chance keeps the stalker's identity concealed well and manages to keep the reader on their toes. The love story too is great and one of the sweetest couples ever. This is one flight you won't want to miss. (JC)

---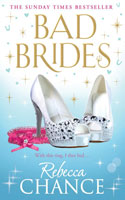 Bad Brides (2014)
There is to be two weddings - each one equally lavish. Actress Milly Gamble wants to be famous and getting married to Tarquin, the lead singer of a huge folk band, will take her a step closer to her dream.
Meanwhile, American pageant girl Brianna Jade has been hooked up with an English earl by her ever-so-ambitious and ultra-wealthy mother, Tamra. Edmund needs money to restore his estate to its former glory and Tamra wants a title for her daughter. Both brides battle to get themselves on the cover of a prestigious bridal magazine.
Rebecca Chance knows too well how to pull the strings and create the perfect book with all the glamour and scandal in the world, not that I am complaining. I love how she throws super-rich, super-famous characters into the story and play with them; she certainly knows how to keep readers hooked. The book is packed with drama, glamour, glitz, sex and scandals. A gorgeous read but not for the fainthearted! (SS)

---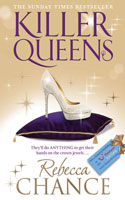 Killer Queens (2013)
We always wonder what goes on behind palace doors, but now we have the chance to be a fly on the wall and discover what really happens when the public are no longer watching... Chloe is counting down the days until she can marry Prince Hugo, making her a princess and one day a queen. Everything seems to be pretty perfect in their little world until Hugo's family begin to cause a whole manner of problems.
First there is Hugo's snotty sister, Sophie, who doesn't think a commoner like Chloe should be marrying into the royal family, and then there is Hugo's devilishly handsome cousin, Toby, who catches Chloe's eye... Lori, a retired athlete, has just accepted King Joachim's hand in marriage. She will soon become the Queen of Herzoslovakia but she can't help but question the speed with which she was engaged and wonders if the whirlwind romance was really a "romance" after all. Lastly, Belinda, Hugo's mother who died tragically in a skiing accident when Hugo was a young boy, may be about to come back from the dead.
Three women, each dizzy with royal attention, have to decide what they really want in life and whether the men they are in love with are really the right ones for them...
Rebecca Chance doesn't disappoint with her latest novel; in fact this could well be her best yet. The plot is clever, addictive and relevant. Get lost in the world of royalty and be taken to all corners of the globe as you get a sneak peek into the secret world of Buckingham Palace! (LL)

---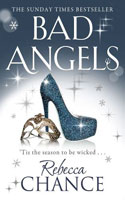 Bad Angels (2012)
Step into a world of quiet luxury where everything operates like a sleek machine but has a turbulent underside that threatens to blow everything apart in an instant. The story is set in the Limestone Wharf, a luxury hideaway for the rich and the famous, and a place that festers with secrets and scandal.
All the apartments are connected to the Four Seasons Hotel next door and the waiters access the homes through a custom-built tunnel that connects the hotel's kitchens to the elevators. From the lithographs that hang over the white leather sofas to the view of the Pan Peninsula from the endless windows, to the high-end designer fittings elsewhere, it is a place of pure luxury where only the very rich and very famous stay, each for reasons of their own.
The protagonists of the story have their own agenda too. Melody Dale is there after her Hollywood career crashed and she had too much plastic surgery. Aniela, the nurse looking after her, is falling for a mysterious man covered with bruises, while Grigor, the Russian oligarch with his unique idiosyncrasies, blazes a path of his own. Why are they there? Will they accomplish their tasks and recover from their personal griefs?
As with all of Rebecca Chance's novels, she keeps you guessing and there is never a dull moment. There is blackmail, scandal and a front-row view into the other side of the lives of the very wealthy. A must-read if you like a steamy blockbuster, with plenty of twists and turns and non-stop excitement all the way. (AC)

---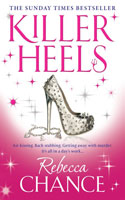 Killer Heels (2012)
Coco is determined to do anything to move up the ladder in glossy fashion magazines - even changing her name and becoming ultra-skinny. Her boss, Victoria, is the editor of UK Style but has her eye on an even bigger prize - to get her skyscraper heels under the editor's desk in New York.
Mireille is the fashion director at the American magazine and isn't particularly keen on having to deal with Victoria again. And from the boardroom, charismatic media magnate Jacob pulls the strings.
With all the magazine machinations, this will appeal to lovers of The Devil Wears Prada. In fact Victoria may well remind many of the cutting Miranda. But it is a much raunchier version - there's lots of sizzling sex, including some S&M for the Fifty Shades brigade and a risky lesbian affair with a model. And in true bonkbuster style, someone isn't willing to stop at anything - even murder - to get their way. This outrageous story will make you want to slap a few faces and send food parcels to Coco.

---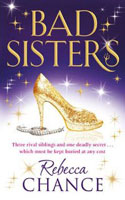 Bad Sisters (2011)
Deeley is just about to discover her services as a fake girlfriend to gay actor Nicky are no longer required. Thrown out of Tinseltown, she heads back to England and her sisters. Oxford-educated Maxie is the epitome of respectability, married to an MP and about to adopt a Rwandan orphan.
Devon helms a successful franchise as a TV cook (think Nigella Lawson) and is married to a rugby star. Deeley's return stirs up memories of a secret that the girls all share from their dismal childhood, one that must stay buried at all costs.
Focussing on each sister in turn (although perhaps Maxie doesn't get as much of the limelight), this will appeal to those looking for a well-constructed story with lots of intrigue and sexual tension.

---
---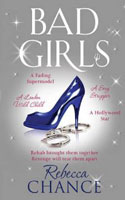 Bad Girls (2010)
Amber is nearing the end of her modelling days - her addiction to prescription drugs certainly isn't helping - so instead her agent is hiring her out more as an escort. But when an international trip turns bad, she ends up in rehab.
Lap dancer Skye gets the opportunity to make some money away from the strip club - by heading off to the same US clinic to seduce Hollywood star Joe Jeffreys, who's being treated for sex addiction.
And for Petal, the daughter of a legendary rock star, she's grown up being exposed to tawdry scenes. But when she overindulges with her musician boyfriend Dan, her reformed father forces her to go clean up her act.
This is a well-plotted story which keeps you wanting to know more about the characters and how they will fare. As a bonkbuster, it does get quite explicit.

---
Divas (2009)
Stunning looks, a gorgeous fiance and a limitless trust fund - London's IT girl Lola Fitzgerald is a spoilt and pampered princess whose father gives in to her every whim. Evie Lopez is just as stunning but she's had to work her way up to become financially stable.
But these two women are in for a rude awakening when Lola's father - and Evie's lover - falls into a coma, giving his new wife Carin control over the finances. First thing on her list is to get rid of Lola by cutting off her financial support and leaving her penniless. Next on her hit list is her husband's mistress Evie, who she plans to evict.
Although Lola and Evie cannot stand one another, they must combine forces to overthrow their number one enemy - The Ice Queen.
This is a classic tale about going from riches to rags overnight, with a Cinderella/Snow White-inspired villainess thrown in. (PP)