INTERVIEW
August 2010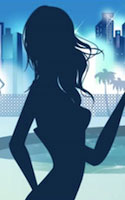 Megan Cole is the pseudonym of a celebrity journalist. A celebrity and fashion blogger who lives in London with her best friend Jess she has written for numerous magazines and flown all over the world interviewing stars. See www.megancoleblog.com. (Interview by Angela Smith)
1. Tell us about your novel Fortune.

Fortune is fabulous escapism at its best. Think designer clothes, hot boys, amazing locations...

2. What was your inspiration for each character: Sapphire, Madison and Simonetta?

Bella Swan, Mean Girls and Italian Vogue!

3. Fortune is set in many beautiful locales. Did you do a lot of travelling as research for the novel?

Not as much as I wish! I could have done with sailing on a ten-million-pound yacht round the island of Capri.

4. Where is your favourite place in the world?

New York, in fact I'm off there again next month.

5. What did you find hardest about writing Fortune?

Finishing it! Fortune is such a beautiful glamorous world where the sea is always blue and the sun always shines that it's always hard to return to real life.

6. Do you think villains are an important part of a story?

Definitely. You want someone causing havoc and it's good to have someone to hate!

7. Is it harder to create a nice character or a bad character? Which is your favourite to write about?

Bad characters, deffo. They're larger than life and lots of fun.

8. Will you be writing any adult novels in the future?

I hope so (with all the glamour, bitching and fun still).

9. What other jobs have you had or considered besides being a novelist?

Celebrity journalist, which gives me lots of inspiration!

10. When did you start writing?

When I was eight.

11. Who or what inspires you to write?

People, places, celebrities...

12. Who is your favourite author?

Candace Bushnell

13. What is your favourite chick lit book?

Twilight is still up there at the moment

14. Why do you want to keep your identity hidden?

In case any celebs sue me for using them in my stories! I'm joking, it's all part of keeping the mystery...

15. What's next for you?

My second novel, which is like Lara Croft meets Indiana Jones. With even more hot boys!
---
---