INTERVIEW
July 2010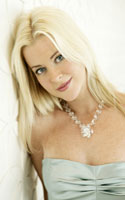 Marisa Mackle was an air hostess who took up writing to while away time spent in hotels. She is now the author of 10 novels, including her most recent Living Next Door to Alice. She also writes a column for an Irish newspaper. (Interview by Shirley Benton-Bailey)
1. Tell us about your books.

My first book, Mr Right for the Night, was published in 2002 and was a number one bestseller. It was followed by So Long Mr Wrong, Mile High Guy, Chinese Whispers, Man Hunt, Confessions of an Air Hostess and Living Next Door to Alice.

2. What inspired you to begin writing?

I was an air hostess with Aer Lingus and I found myself spending many nights in hotel rooms watching TV by myself. I decided to be more productive with my time. I wrote my first book on hotel notepaper because I couldn't even type!

3. Where do you get inspiration for your plotlines?

Plots come to me when I least expect it. Often I have an idea mulling around in my head for about a year before I actually decide to jot it down. Sometimes an idea will not go away and you just have to do something about it.

4. What's a typical writing day like for you?

There is no typical day really. When I'm writing a book and I'm really into it I can write up to 6000 words a day. But when I'm in between books I often write nothing because I always have so many other things going on.

5. How long does it take you to write a book?

Approximately three months to write it and another 2-3 months to rewrite and edit it.

6. How do you feel about the term "chick lit"?

I prefer the term 'romantic comedy'. I think it sums up my books the best because I always try and include humour in my books. But I have also published a history book which would not come under the 'chick lit' category. I would prefer not to be boxed. If you are a writer, then you are a writer and there's no need for labels.

7. Why do you think chick lit books are so popular?

Everybody needs escapism in their life. People are stressed with their own daily struggles and so they look forward to having a couple of precious hours to lose themselves in another world. Not everybody wants to read highbrow literature on the beach!

8. What are your own favourite chick lit books?

I am a big fan writers such as Marian Keyes, Sophie Kinsella, Patricia Scanlan and Kate McCabe. It would be impossible for me to choose a favourite book!

9. What's the easiest and hardest parts of your career as a writer?

The easiest part is doing something that I absolutely love for a living. The hardest part is locking myself away for weeks on end when I'm working on a book because I'm naturally a sociable person.

10. How do you market your novels?

I do television, radio and print interviews. I try not to do too much publicity in between books. You can't be constantly popping up everywhere. It's hard to say no but you can't say yes to every single bit of publicity you are offered. Publicity does help a lot but word of mouth is the best selling tool. I tell everybody I meet I'm a writer.

11. What advice would you give to aspiring novelists?

I would tell them to follow their dream and work extremely hard. I would also tell them to take no notice of the knockers as there are too many of them around. When you are first starting out and tell people you're writing a book, they will usually tell you that you're mad. Don't listen and don't take advice from anybody unless they are a successful published writer!

12. How would you like to see your career progressing in the future?

I am writing the sequel to Girl in the Yellow Dress which was my first children's book. I wrote it and my friend Rosanna Davison did the illustrations. We worked very well as a team and had a lot of fun. I have also just signed a two-book deal with Poolbeg and my next adult book Along Came a Stork will be published in early 2011.
---
---