MARISA MACKLE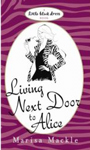 Living Next Door to Alice (2008)
Beautician Tanya is sure that boyfriend Eddie is about to propose - he's invited her out for a posh dinner with the view to asking her something important. So with her mum already ringing around venues and her missionary cousin booking his flight home to conduct the ceremony, it comes as a shock when Eddie actually just asks Tanya to move in with him . . . into his parents' house while they move to Spain. Meanwhile Irish model Alice finds that life and love in LA isn't all it's cracked up to be and heads home to her parents' house - next door to Eddie's. Now Alice wants to rekindle things with the guy next door and plays all sorts of dirty tricks to break up his relationship. A breezy light read - just a shame it all got wrapped up so quickly at the end.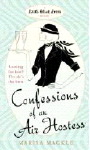 Confessions of an Air Hostess (2007)
It's not been a good week for air hostess Annie. First her boyfriend Niall borrows £1000 then dumps her by text. Then she's suspended for a week after passengers overhear her rant about the bastard. Then she wakes up in hospital after a tangle with a Mercedes. But on the plus side, the Mercedes owner, the oh-so appealing businessman Oliver Kane, does replace her ruined Jimmy Choos. And she can spend her suspension and recovery time in the Spanish coastal town of Malaga, keeping company with gorgeous pilot Danny. A lighthearted romp with a delightful heroine, but it unfortunately hits a bit of turbulence when some too-improbable scenarios are thrown in.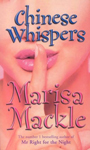 Chinese Whispers (2005)
Fiona loses her flatmate when she is caught at a party half-naked with Ellie's new man, Connor. Ellie, a travel journalist, doesn't stick around long enough to find out it was all an innocent accident. So Fiona's hunt for a new flatmate brings the beautiful but vulnerable Bunny to her doorstep - she's fleeing an abusive boyfriend and has an impressive stash of cash. After stuck-in-a-work-rut Fiona goes along on a travel junket intended for Ellie, she meets magazine social diarist Angela-Jean who wants her to fill in while she goes to New Zealand to find herself. But first AJ turns Bunny into Dublin's latest It Girl.

Mr Right for the Night (2002)
Anna has received an invitation to a reunion party hosted by the smug Victoria, who made school life hell for her and best friend Claire. Anna is determined to go, to show she's become a success. Trouble is, while her retail career is tootling along nicely, there's no man in her life and Claire is generally too busy raising her young son to be her wingman. Surely she's got enough time to find a perfect partner for the night? As several men come along, perhaps Anna will realise the right man has been under her nose the whole time. While some of the plot developments come across as too contrived, this is a cute story about a girl facing up to her self-doubts.

---
---