INTERVIEW
December, 2009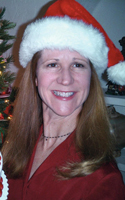 Lynne Hinton is the author of the Hope Spring series - Friendship Cake, Hope Springs, Forever Friends and Christmas Cake - as well as The Things I Know Best and The Last Odd Day. She is also an Intentional Interim Minister presently serving in Washington. (Interview by Angela Smith)
1. What is your inspiration behind the Hope Spring series?

My first parish was filled with people who knew how to cook and knew how to be community. They were my inspiration.

2. How much is Charlotte based on your own experience?

Charlotte is a bit me but she broods a little more than I do, feels things more deeply. So, I just sort of take my neurosis and multiply them - that helps create this character.

3. Which of the characters do you most identify with then?

I would say Charlotte because of her work as a minister and the way she finds herself learning from these other women. I like to think that the characters are teaching me.

4. What do you want your readers to take with them after reading your books?

I like them to think of their own friends and be grateful for the gift of friendship and I hope to introduce them to some folks who may be different from them. I hope the stories of these women open hearts and minds.

5. What made you decide to put cake recipes in each book?

Christmas Cake is about a cake recipe contest. Friendship Cake actually has more than just dessert recipes. But I don't know why I do recipes except that feeding others is such a way to care for people. It's just universal. We enjoy eating and sharing meals together. It just seemed right for this group to have recipes.

6. Are these your own personal recipes? (They sound delicious!)

A member of my first parish owned a family-style, Southern-cooking restaurant. She had a cookbook and I used most of her recipes. I'm not really a cook.

7. What made you want to become a pastor?

My father is a minister. Just in the blood, I guess. I actually enjoy chaplaincy work more than parish ministry but this seems to work for me now. I stay with it because there really is no other job that lets you into the lives of others as intimately and in as many places (sorrow, celebrations, struggles, etc.) as this profession.

8. You've recently moved to Washington, have you found that to be a hard transition?

I just recently took the training to become an Intentional Interim Minister, which is sort of like a consulant for churches in transition. My husband and I were open to move anywhere and this seemed like a good place to start. We've been here since the end of October and we like it. Chewelah is a small town north of Spokane. It's quaint and I can walk anywhere. I love that! We will probably be here about a year or 18 months. And that's just perfect for us.

9. Can you tell us about the next book in the series, Wedding Cake?

Just that it's about more than one wedding.

10. What do you see on the horizon for the women of Hope Springs in the next few years?

I think there will be more focus on Charlotte in New Mexico and her work in the women's shelter. There's probably another road trip in store for the Hope Springs women.

11. What is your favourite chick lit book?

Penny Stokes is a friend of mine. I like her books. Her latest is Heartbreak Café.

12. Who would play each of the main characters if one of the books in the series was made into a movie?

Boy, I don't know about that. Sarah Jessica Parker would make a nice Charlotte. I'm not sure about the others!
---
---