INTERVIEW
May 2013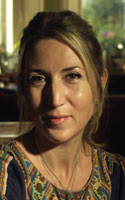 Lisa Jewell is the author of titles including Ralph's Party, Thirty-Nothing and 31 Dream Street. Her most recent release is Before I Met You, with The House We Grew Up due out in July. She lives in London with her family and previously worked in fashion. (Interview by Jade Craddock)
1. Tell us about Before I Met You?

Before I Met You is the story of Betty and Arlette. Betty first meets Arlette when she is ten and Arlette is eighty five. She is his stepfather's mother and something of a misanthrope, but she finds young Betty very much to her liking and the two of them become incredibly close. After years of being cared for by Betty, Arlette dies at the great age of ninety seven and Betty finally gets to spread her wings and sets off on a mission to find the mysterious Clara Pickle, an unknown beneficiary in Arlette's will. Clara's last known address was in Soho, London, so Betty finds herself a small apartment and turns detective. The story splits then into two threads as Betty comes of age in 1990s London and Arlette blossoms after arriving to stay with family friends in Kensington in 1919. Betty learns more and more about Arlette's secret life in London as the story unfolds and learns of the tragic reasons for her return to her family home two years later.

2. Before I Met You is quite a change of direction, what sparked this change?

I always feel like every book I write is a big change from the one that came before. The Making of Us had been very much an 'issue-led' book and very contemporary so I started off wanting to write a love story set in the 90s, something completely different. When I realised halfway through that the story of Betty coming to Soho to find herself wasn't meaty enough to sustain the whole novel, I went back to her elderly grandmother, Arlette and gave her a fascinating secret life to unravel. Writing in a historical period was a bit of a fluke, rather than something I deliberately set out to do.

3. Arlette's story is absolutely beautiful, where did you get your inspiration?

I was inspired by the very first article that came up when I googled 'Jazz London 1919'. It was a piece on the BBC website about the Southern Syncopated Orchestra. The minute I read about the orchestra and their tour of the UK and their tragic history I knew that Arlette would be involved with them. The rest of the story unfurled quite organically.

4. Was it difficult to write the 1920s narrative? Why did you choose this period?

It was unbelievably easy to write the 1920s chapters. Much easier then the 1990s ones, mainly because I'd had to butcher the first half of Betty's story in order to lever in the Arlette story, so it never felt quite pure. With Arlette's story it just flowed and I barely changed a word of it as I went along or afterwards. And as I mention in my answer to the first question, I didn't really choose the 1920s, they were a gift to me from the writing gods!

5. Did it strike you as you were writing the 90s period just how different the world was only twenty years ago?

Oh, absolutely, and mainly of course because of technology. It was much more challenging and interesting to write about Betty's detective work without being able to fall back on technological shortcuts. I loved putting her on buses to visit people at home, flicking through Yellow Pages, queuing up for phone booths and having notes dropped through her letterbox, it all added to the drama and actually gave her story more parallels with Arlette's.

6. Would you be interested in writing purely in the historical mode in the future?

I don't think I would. Or at least, I would not set out specifically to do so. But then I didn't set out to write about the 20s this time so it may happen without me even noticing!

7. What were the particular challenges and joys of writing this novel?

Once I'd decided to add in Arlette's back story and the mystery to solve, the book more or less wrote itself. That was a wonderful feeling, and not one I had ever experienced before! The biggest problem for me was all the work I had to do to the first half of the book in order to put in Arlette's story.

8. This is your tenth novel; do you still find writing enjoyable?

Yes, I do, And more so now that I've worked out how to balance my writing day so that I don't waste so much time and get at least 1000 words written every day. Before that if I had a bad day I would be filled with self-loathing and go to bed with an empty feeling. Now that doesn't happen anymore, so even when I'm finding it tough, I don't have that hopeless feeling. There's nothing worse than spending six hours at your desk and achieving nothing.

9. How has your relationship to writing changed over the years?

I have learned to control the monster! Which isn't to say that I find it easy because I really don't. But as long as I know where the story's going I know how to saddle up and just get on with it. When I don't know where the story's going, instead of staring at a screen all day, hating myself, I cut myself some slack and go and sit on benches and walk around and maybe even go shopping or for lunch with a friend. The joy of being this long in the game is that I know however much it sometimes feels like I can't move the story along, I always manage it in the end.

10. Is it harder to find new ideas after ten books?

It is harder, but I don't think it's necessarily because of the amount of books I've written, rather that I know that the better the idea the easier the book will be to write, so where in the past I'd just have some vague notion about a house and some people, and then jump in and see where it led me now I like to have a sense that I'm doing something special. I think the reading public has changed over the years and they expect their books to have a bit more bite and direction. They want the author to know something they don't know and reveal it to them slowly and cleverly. Readers don't want fluff and mirrors anymore. And I don't want to write fluff and mirrors. So I'm constantly pushing myself for something more substantial to get my teeth into as writer.

11. What does it take to have such success and longevity?

Publishers who like you and want you to be successful. Great fans. But apart from that, I think it's hard to remain successful in the current market unless you are writing really good books. There is no margin for error now. There are very few writers who can sit back and churn it out and know that there are half a million people out there who would pay to read their shopping list. The rest of us have to keep upping our game and improving and tapping into the mood of the reading nation.

12. Is it easier or harder to be a successful author today?

A bit of both. Because there's less author loyalty than there used to be, it is possible for an unknown author to come from nowhere and change everything. It's all about the book, that reading group mentality: What's the latest book? What's everyone reading? So, as I say, if you can tap into that, if what you're interested in writing about happens to be what people are desperate to read, then you can be incredibly successful very quickly. But the kind of career I've had, the ticking over of three book contracts, a book a year, slow and solid, that's harder to achieve and very scary to hold on to right now!

13. What do you look for in a book as a reader?

I look for the exact thing that I mention above; a slow tantalising reveal of a deep secret. Whether it's whodunit, does she really love him or what did he say to her in the dark room all those year ago, I want to know and I want to find out really slowly. But it has to be done well, with really believable characters and excellent dialogue. I don't want a book I'm happy to put down between chapters, however well written it is. I want a book to consume me.

14. You have another book coming out in July - The House We Grew Up - could you give us an insight?

Again, this is a complete departure from Before I Met You, a family saga set in a Cotswolds village. It's about Lorelei Bird, her four children and her husband and what happens to them after a terrible and inexplicable tragedy strikes one Easter Sunday. Lorelei becomes a compulsive hoarder and one by one her family fly the (increasingly cluttered) nest, seemingly never to return. At the beginning of the novel Lorelei has just died in terrible circumstances and the story goes back and forth between the past and the present day where Lorelei's oldest child Megan is trying to unclutter the house and bring her family back together again.

15. And finally, your novel focuses on the two very different periods of the 1920s and 1990s but which is more appealing to you and why?

Having lived through the 90s – and my goodness, they do feel like they happened about five minutes ago, hard to believe it was twenty years! – I would have to plump for the 20s. The clothes! The clothes!
---
---