LINDSEY KELK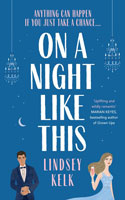 On a Night Like This (2021)
With relations strained with her fiance, Fran gets a short-term position acting as personal assistant to tempestuous singer Juliette. This sees her whisked away to a superyacht off the Italian coast, with the aim of getting her charge to the glitzy Crystal Ball in one piece.
From a drunken night on board to a shopping trip gone wrong and gatecrashing the exclusive event, Fran finds herself in a fairytale experience with a real-life Prince Charming.
Put yourself in the capable storytelling hands of Lindsey Kelk and be whisked away yourself to a glamorous location with romance in the air. With a cameo from Rachel (The Single Girl's To-Do List), this quick read is a very pleasant way to spend a night.

---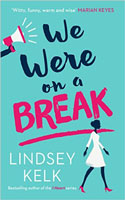 We Were on a Break (2016)
Adam intended to propose to Liv at the end of their lovely holiday in Mexico. But then things don't go to plan so he doesn't. Instead he proposes that they take a break from one another.
Stunned, Liv arrives home to find her dad is passing on his vet practice to her, but while she is devoted to caring for animals, is that really what she wants? Amid temptations, misunderstandings, and friends' best intentions going awry, Adam and Liv's break looks like it may become a total break-up.
Told from the perspectives of both characters, this narrative style works perfectly for this scenario because you can understand what each is thinking and the reasons they do what they do. Overall, it's another strong read from Kelk, a light-hearted and realistic story about a couple hitting that stage where they have to decide to stick together for good - or move on.

---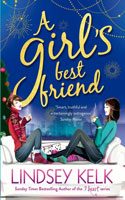 A Girl's Best Friend (2015)
It seems like nothing in Tess' life is going right at the moment. After having a great time in fabulous places such as Hawaii and Milan, she's back in grey and rainy London, and all alone. So, when her best friend Amy tells her to book a ticket to visit her in New York, Tess knows she has no other choice but to get on that plane to find some excitement in her life.
Spending the festive season in the Big Apple is of course already special, but Tess soon manages to find other opportunities to make her time in the USA count and start working on her dream of becoming a photographer. But when she is suddenly given a great chance to prove just what she can do and the love of her life makes a surprise appearance, the stakes are suddenly pretty high and Tess realises this trip might be more life-changing than she originally expected it to be...
A Girl's Best Friend is another fantastic instalment in the 'Girl' series, with the same great characters, a captivating storyline, and Lindsey Kelk's funny distinctive writing style. A fun touch to the story is that several of the characters from Kelk's 'I Heart….' series make an appearance. The book can be read as a stand-alone, but it's definitely more fun if you know the characters' backgrounds and are familiar with Kelk's other works. It's another sparkling, fun and fresh read from a brilliant chick lit author. (JoH)

---
Always the Bridesmaid (2015)
Maddie's best friend, Lauren, is getting married while her other friend, Sarah, is getting a divorce. So while acting as the wedding planner to her friend-turned-bridezilla, she also needs to keep Sarah's spirits up. Maddie's own love life may be looking up, too, after she catches the eye of the best man at one of her wedding events. And on the work front, she's busy chasing a promotion at her event planning company – despite her overly critical boss Shona feeling she's not up to the task. Plenty of embarrassing moments ensue.
This is both a funny and heartfelt read, with all three friends likeable and relatable characters. The snippets from Maddie's bridesmaid journal add a nice touch.

---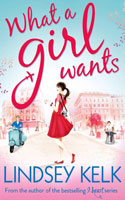 What a Girl Wants (2014)
In this sequel to About a Girl, Tess gets herself in a spot of trouble when she tries to sneak stuff out of her flat without flatmate Vanessa noticing. She is also faced with a big decision - does she stay in London and set up an advertising agency with best friend Charlie, who's just admitted he loves her, or does she accept a dream photography assignment in Milan.
Meanwhile Nick, the writer she fell for in Hawaii, isn't answering her calls because he's mad she lied about her identity.
Despite not having read the prequel, the storyline was easy enough to follow but perhaps I wasn't as invested in the characters. Tess is one of those girls who gets herself in a pickle wherever she goes and no doubt many readers will delight in her twenty-something antics and the Charlie-Nick love triangle.
The story lost a bit of momentum through the middle but the many hilarious scenes and Kelk's easy writing style certainly made up for it overall. But don't expect a neat ending as there's another book to come.

---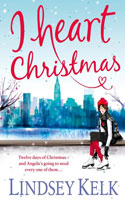 I Heart Christmas (2013)
Angela has always loved the festive season and this year she's looking forward to spending a quiet one with her husband Alex. But when her boss informs her that she's going on a three-month sabbatical and Angela will be new interim editor, her plans for a calm, relaxing Christmas suddenly go out the window.
And that's not all, her parents have decided to spend Christmas with Angela and Alex and have booked their flights, then Louise and her daughter, Grace, turn up unannounced too.
When best friend Jenny brings up her baby plans, Angela has to face Alex's own baby questions and it's the last thing she's ready for.
This was my first foray into the I Heart series (I know, I know) and it's clear I've been missing out. Riotous fun, awkward situations, rowdy friends, true romance, all wrapped up with a festive bow, this is pure chick lit gold. (JC)

---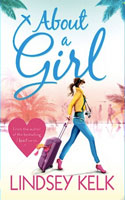 About a Girl (2013)
Lovable Tess Brookes didn't mean to let things get so out of control but when she loses the job she's slaved over for absolutely no reason and gets rejected by her best friend and love of her life, taking off for Hawaii seems like the perfect thing to do. Nevermind that she's taking off under false pretenses. Nevermind that she has no idea how to do the job she's accepted. Nevermind that she took on her roommate Vanessa's identity.
All that is water under the bridge...until she gets to Hawaii and things become real. First off, she meets the handsome reporter she'll be working alongside and then she meets the art director of Gloss magazine, who expects Tess to provide top-of-the-line photos for a really important interview. Can she pull it off? And just how long can she go on being Vanessa without someone catching on?
A fun, flirty story that is the perfect summer read. You'll definitely want to get lost in Lindsey's terrific new series! (AS)

---
---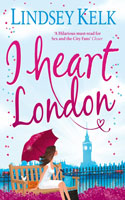 I Heart London (2012)
Angela Clark is back and while she's fixed her Visa situation it seems that fate still wants her back in London - and pronto. When she's summoned back home, Angela is joined by her lovely boyfriend, Alex, and her crazy best friend, Jenny. Though she is dreading the trip home - to see her parents, her friends and the life she left behind abruptly two years earlier - she's also a tiny bit excited for Alex and Jenny to meet her other best friend, Louisa, and her new baby, Grace.
Of course, nothing goes to plan and as always Angela finds herself in a variety of predicaments that no one else ever would, but they're believable and not at all outlandish considering how Angela's life usually goes.
With a wedding on the horizon, two best friends who may or may not see eye to eye and an ex-boyfriend across the pond who broke her heart and sent her on her journey to New York, this story is probably the best of the entire I Heart series. It's wonderful because readers finally get to see Angela come full circle and face all her demons.
It's also a bittersweet goodbye to a character that will remain forever in the hearts of fans worldwide. Lindsey Kelk has brought Angela back with all her wit and humour for a farewell that will leave you wanting more. (AS)

---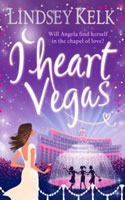 I Heart Vegas (2011)
Angela Clark is back in the fourth instalment of the I Heart series. This time, Angela finds herself at a crossroads. With no foreseeable employment, a visa that is about to expire and a friend who is going crazy over her ex's impending wedding, Angela heads to Vegas, where problems are a thing of the past. However, for Angela, trouble seems to show up no matter where she is. In the land of glitz, glamour and lots of sins, the British import finds herself in more trouble than she bargained for.
As she sees her life fall apart before her eyes - in the course of one measly weekend in Sin City - Angela has to figure out what she wants for herself and how she's going to get it before it's too late. Will she find herself in the chapel of love or will she find herself nursing a broken heart?
With all the wit, warmth and humour that we've come to expect from Angela throughout the series, this novel certainly doesn't disappoint. You just can't help rooting for the lovable, bumbling Brit who gets herself in over her head pretty much every time she steps out the door. The return of some favourite characters (such as gay actor James Jacobs) is also a plus. So, at the end of the day, if you can't get away to Vegas, consider yourself lucky because the Strip is not always so nice and you don't always win (contrary to what the ads tell you). You're better off reading about the perils of Las Vegas from Angela's point of view. It's more fun that way (and you'll spend less money!) so it's a win-win situation. (AS)

---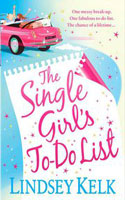 The Single Girl's To-Do List (2011)
Somebody else would have described her as just being organised (full stop) but Rachel Summers is more than just that. A self-proclaimed listomanic, she's always ticking off her daily lists of to-dos, making sure everything is under control. For now, the one at the top of her list is to get her boyfriend back, after he initiates a temporary time-out from their relationship, and Rachel needs more than just a sexy outfit to get it done. She turns up at Simon's "casual Friday" hangout, waiting for her opportunity to talk to him so everything will fall into place - at least that's what Rachel thought.
But when he dumps her on the streets with the oh-so cliche "I love you but you're not the one", she is left devastated, humiliated and for the first time in 16 years, single. Her two best friends step in to get Rachel's life back on track. Writing her a single girl's to-do list, they come up with 10 things she has to complete before her dad's wedding. Stepping outside her comfort zone, and attempting things she's never ever imagined herself doing, Rachel starts on a whole new journey filled with adventure, fun and the unexpected.
You will not only fall in love with the heroine, with her over-the-top obsession with lists, but also with her gay best friend, Matthew (my favourite character with his exaggerated actions and honesty), and best girlfriend Emelie. Hilarious and cleverly written, this novel is one to definitely add to your to-read list. (XT)

---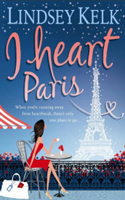 I Heart Paris (2010)
Angela Clark started out in London, moved to New York and now is visiting Paris in the third instalment of the I Heart series. When Angela is offered a job for chic Belle magazine and her boyfriend, Alex, asks her to go to Paris at the same time, Angela is on cloud nine. However, when they arrive in Paris, things don't go as planned. Angela had romantic plans of walking with Alex by the Eiffel Tower wearing berets and whispering sweet nothings to each other, but what she gets is a whole other story.
Alex is too busy practising with his band for a huge festival. Plus, Angela has her first piece for Belle to work on, which she may have actually made some progress on if only her luggage hadn't gotten blown up at the airport. Oh, and if someone wasn't conspiring to make her look like a fool.
When Alex's beautiful ex-girlfriend, Solene, shows up and tries to reclaim him, Angela feels her Parisian getaway is really taking a turn for the worse. So, when she is faced with the choice to go back to London or stay in Paris and watch Alex and Solene flirt, Angela lets her heart lead her - though that may not be the smartest thing to do.
This novel continues to make the I Heart series one of my favourites. Angela is funny, sweet and extremely relatable. The whole story just makes you root for her even more and it has an especially heart-warming ending. It's one definitely not to be missed! (AS)

---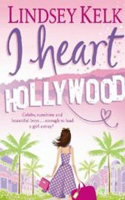 I Heart Hollywood (2010)
Angela heads to Hollywood after British movie star James Jacobs specifically requests that she interview him. With best friend Jenny along for the ride, Angela soon discovers that celebrity life in Hollywood is not all that glamorous. When a paparazzo catches her and James in a compromising shot, Angela finds herself becoming the story. Can she convince her boss and her musician boyfriend not to believe everything they read?
This continues on from where the debut, I Heart New York, left off and all of our favourite characters are back, bigger and better than ever before. With a few new characters added into the mix and a plot twist that comes completely out of the blue, this book is light and frothy, and highly, highly entertaining. (KC)

---
---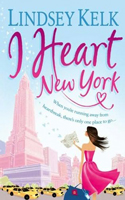 I Heart New York (2009)
What would you do if you found out your long-term boyfriend was cheating on you? For Angela it meant ruining her best friend's wedding by screaming at the bride and making her cry, breaking the groom's hand with her shoe and then fleeing to New York City. Checking into a hotel, she quickly makes friends with Jenny who gives her a makeover and after a whirlwind tour of the city and a major shopping spree it's not long before she's dating two cute guys. Oh and the best thing of all? She gets to write about it in her new blog for fashion magazine The Look.
Although the premise of this book may not be all that realistic, it is without a doubt a fantastic read with some really hilarious moments thrown in for good measure. Pure escapism and chick lit at its best! (KC)

---