KATIE OLIVER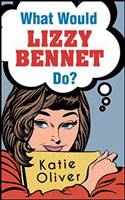 What Would Lizzy Bennet Do? (2016)
Lizzy Bennet – the daughter of a retired vicar - has always fancied boy-next-door and the heir to Cleremont estate Hugh Darcy. But when he returns home after eight years, he brings his fiancée with him. The woman who has won him over is former magazine staffer Holly James (from Love and Liability/Manolos in Manhattan). But can Holly win over the rest of the family? And what will Lizzy do when she figures Holly can't possibly be the right woman for Hugh – after all, she is! Meanwhile, Lizzy's younger sister, Charlotte, has caught the roving eye of film star (and Holly's ex-fiance) Ciaran Duncan. The villain of the piece is playing Mr Wickham in a Pride and Prejudice movie being filmed at Cleremont as well as challenging the younger Darcy son, Harry, in the annual yachting regatta. The question this book raises is what would Jane Austen do, if she was writing a novel inspired by her classic stories but set in the modern day. Would everyone still refer to each other as Mr, Miss and Lady? Would sensibilities be offended by a girl wearing a bikini or kissing a man? Would a twisted ankle warrant an overnight stay to convalesce? Katie Oliver has evoked well the wit, behaviours and conversations of the Jane Austen world but after a while it made the reading experience uncomfortable. Grown women being disciplined by their father, no one appearing to have a job they needed to be at, engagements at the drop of a hat, punches thrown willy-nilly … That aside, this first in a series was still an enjoyable read – albeit with a few clunky plot additions. I can see it drawing many readers into the world of the Bennets and Darcys again.

---
---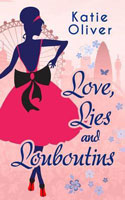 Love, Lies and Louboutins (2015)
This second book in the Marrying Mr Darcy series goes off on an unexpected tangent - more crime farce than chick lit. Gemma loses her cool when she spots her new husband, rock star Dominic, escorting his hot duet partner, Anglo-Indian pop sensation Christa, on to his private jet. So when her former flame and international arms dealer Jack reappears, she is tempted to settle the score. Soon though everyone is caught up in the case of Jack's missing niece, Jools, and the story evolves into one about extortion and kidnapping, Turkish gangs and old enemies. For me, it made for an unhappy union, testing the realms of credibility, lacking the required emotional intensity and losing the romance along the way. Perhaps this storyline needed to be saved for a Murdering Mr Darcy series.

---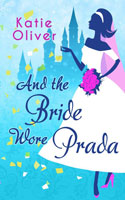 And The Bride Wore Prada (2015)
Natalie Dashwood-Gordon is off to the Scottish Highlands for Christmas with husband Rhys, to stay at their friend Tarquin Campbell's impressive pile, Draemar. After a car hiccup at the airport, rock star Dominic Heath and his bride-to-be Gemma are also along for the ride. As heavy snows fall, Helen, a reporter who is trying to get the scoop on the impending nuptials, crashes her car outside Draemar and is rescued by gruff groundskeeper Colm. The bad weather forces all parties to remain at the estate as Gemma whizzes herself into a frenzy throwing together a last-minute wedding and Tarquin's sister Caitlin returns unexpectedly with a secret. And why does Colm look so much like the Campbells' missing-presumed-dead son? This light-hearted, entertaining read has plenty of soap-opera-like relationship drama. It kicks off Katie Oliver's Marrying Mr Darcy series, with the return of her characters from her Dating Mr Darcy trilogy.

---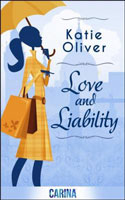 Love and Liability (2014)
Holly James is a fierce, independent girl who wants to stand on her own feet without any support from her super-rich father but unfortunately she can't pay the rent without his money. Full of bright ideas and confidence, Holly is determined to earn respect and a decent salary at the teen magazine where she works. But Holly's boss, Sasha, hates her and will go to any length to sabotage her career. While trying to make ends meet and saving herself from getting fired, Holly decides to write about Zoe, a homeless teen in London. Zoe is the daughter of a well-known chef and is running away for a reason. This is such a quick and fantastic read that I couldn't stop myself from turning pages. Katie's writing is fresh, witty and so charming. The way she has brought together the large range of characters is amazing. Despite this big cast, everyone has their own identity and stands out of the crowd. The only reason why I am not giving it higher marks is because at some points there was this weird chemistry between Holly and her step-brother. (SS)

---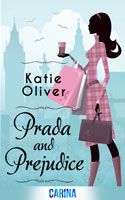 Prada and Prejudice (2014)
Natalie Dashwood has been summonsed to attend a board meeting about the financial woes of her grandfather's department store. After not getting off to the best start with Rhys Gordon - the man brought in to save the store - Natalie is called upon to help with the store's revamp. Step one is curbing her own extravagant spending. Step two is using her socialite connections to boost the star power at the store's big re-launch, including convincing her rock star ex-boyfriend Dominic to sing at the event. With the media hot on her heels over her relationship with Rhys and a creepy colleague stalking her, it's time for Natalie to prove she's more heiress than airhead. This light-hearted read is a very promising debut, with several sub-plots to keep the story kicking along.