INTERVIEW
February 2014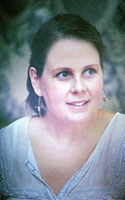 Kate Forster is the author of The Perfect Location, Seduction and Close Up. She has also written several young adult books. She lives in Melbourne, Australia, with her husband and two children. (Interview by Swati Sharma)
1. Tell us about your latest novel, Close Up.

Close Up is the story of a successful actress, her manager and a woman from New York whose lives intersect at a crucial time in their lives. I wanted to create a story about the behind-the-scenes drama that happens in the film world, and the fight for survival by women in this industry. To be successful in any field is wonderful, but to be at the top of your game in Hollywood means you will have sacrificed so much to get to where you are. When you see an actress who is in her late thirties who is beautiful and her name can open a movie, trust me when I say, there is always a lot more to the story.

2. What inspired you to write about Hollywood glamour and the behind-the-scene truths in your books?

I love the stories of Hollywood. The drama and the politics. From Bette Davies and Joan Crawford, to Elizabeth Taylor marrying her best friend, Debbie Reynold's husband, the real drama has always been off the screen.

3. Where did the idea came from for your Smitten book series?

Smitten is the brainchild of the publishing director of Hardie Grant Egmont, Hilary Rogers. She wanted to create a romance series for girls who weren't reading as much as they could. There is so much distraction for teenagers now, so the books were to be fabulous, fun, romantic stories for young women. I wish I had these books growing up, they explain so much about first love and the confusing feelings that go with that time in your life.

4. Have you ever felt tempted to use any real-life character in any of your books?

Oh yes! I am definitely inspired by real life stars but no names will be revealed.

5. When you are writing a book, do you plan well in advance or let your characters take you to the journey?

Both. I have plans and I know how I want their stories to end, but the twists and turns they take to get to their ending is often surprisingly. I let them guide the way.

6. What's your average writing day like?

I tend to write best in the morning but if I am on a roll, I will go through lunch until I'm exhausted. I write most days, even if it's 1000 words. If I don't, I lose momentum and the story will become disjointed. I like to ride the emotion of the story through the day.

7. If you could invite three fictional characters for dinner, who would it be?

Scarlett O'Hara, Jay Gatsby and Holly Golightly, three of the most indulgent characters in literature.

8. What's that one thing which you wished you'd known when you were starting out as an author?

That there is no silver bullet for selling a book. It's a gamble with each one. Some work and some don't, and there isn't anything you can do about it except keep wanting to tell your stories, and hope you find some people who like them enough to buy the book. I had no idea how fragile the publishing world was when I got my first deal, and since then I think it's become worse, but I think the world needs stories. These are what keep the world going around, and can save people from themselves and from an ugly outside world. How we get the stories, the medium itself, doesn't bother me. Ebook or traditional, I like both, just keep reading and support the authors!
---
---