KAREN QUINN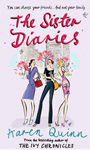 The Sister Diaries (2009)
Laura has put her life on hold for the past six years to care for her ailing mother Sunny. So she is shocked to discover at the will reading that just about everything has been left to her middle sister, Serena. That's the sister who already lives a luxurious lifestyle thanks to her wealthy husband. The oldest sister, Amanda, is also annoyed at being left out of the inheritance. The high-flying realtor has been a casualty of disgraced financier Bernie Madoff and was counting on the money to get her out of trouble with a loan shark. Serena believes her mother left the spoils to her because their wealth stemmed from a painting given to her by artist Daniel Lassiter - and she believes Daniel was her real father. But for Laura and Amanda, they already believe they have given Serena enough. Amanda has financially supported the family, particularly when Serena had leukaemia. Laura even donated bone marrow and the eggs for Serena's two children. So the sisters embark on a mission to find out why their mother changed her will from her policy of "equal treatment". With poignant quotes about sisters at the start of each chapter, this is a multi-layered story that will keep you guessing. And it wouldn't be a Karen Quinn book without some hilarious episodes about the things rich, overly ambitious people do to their kids.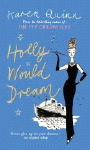 Holly Would Dream (2008)
Fashion historian Holly Ross is walking to work in the rain when a luxury car splashes her. The gallant passenger stops to offer the bedraggled Holly a lift - and so, in true romantic fashion, mega-rich property mogul Denis King comes into her life. He also happens to be the latest target of her donation-seeking boss at the fashion museum. Within days, Holly finds she isn't getting her expected promotion, her actor boyfriend is arrested and her hopes of impressing Denis are dashed. So she follows Denis on board a Mediterranean cruise - to get that seven-figure donation that will win her the promotion and maybe stop his wedding to a shallow heiress. But then a trunk of Audrey Hepburn gowns goes missing, and Interpol is on Holly's trail. I only wished I had seen Hepburn's movies so I could understand all those clever references the author promised. But the snippets about fashion history were woven in beautifully and showed Holly was far from being just some silly fashionista.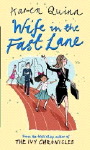 Wife in the Fast Lane (2006)
Former Olympic runner Christy Hayes has built up her Baby G sports shoe label into a multi-million-dollar company. But her business partner, Katherine, leaks some negative stories about Christy and the company to the media and forces the board into making her CEO. So Christy decides to throw herself into being a wife and mother, with the new motto 'Marriage, children, career - pick two.' She falls for successful businessman Michael Drummond, who comes with a ready-made daughter, Ali. And so Christy enters the cruel competitive world of the yummy mummy mafia at Colby Girls' School.

---
Also by author:


The Ivy Chronicles
---