INTERVIEW
February 2008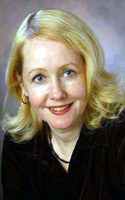 Earthly Pleasures is the first book by Karen Neches, who also writes novels including the Bottom Dollar Girl series under the name Karin Gillespie. She lives in Augusta, Georgia, and was the founder of the Girlfriend Cyber Circuit.
1. What inspired you to write Earthly Pleasures?

Over three years ago, I had this sudden thought: Lovely Bones meets Bridget Jones. I was so excited, I felt like I'd discovered how to turn rocks into gold. Then I spoke with a publicist who said, 'What a horrific notion'. She hated the pitch because the two books were so different. Too late. I was already 70,000 words in. My agent hated it. My editor wanted to use it for kindling. I almost gave up on it. I cursed the novel many times but now it's my favorite. Also, I wrote it during the honeymoon phase of my marriage. I'd been single for over 20 years (I used to say I was in the 'hospice stage' of being single. I didn't think I would ever recover.) Anyway, I finally met 'the one' after so many years and I had love on the brain. I ended up dedicating the book to my husband.

2. How much fun did you have coming up with your concepts of Heaven - and which part would you most like to visit?

It was tremendous fun. I probably would like to visit either the Reincarnation Archives (where you can take a peek at all the lives you've lived) or Nocturnal Theatre, where all of your dreams are projected on the big screen.

3. Why did you choose Beatles songs to teach life's important lessons?

They are so prolific and many of their songs have a little bit of a spiritual flavor.

4. Do you believe in guardian angels?

Definitely. I don't think we are ever alone as we live our lives on Earth. I think there are many loving beings cheering us on.

5. Have you been surprised by the reaction to the book?

I'm very pleased that most people are attracted to the concept. Usually once they hear the premise or read the excerpt, they want to read the book. It's been extremely easy to promote.

6. Have you received any flak from people unhappy with your version of the afterlife?

Not yet, but the book just came out this week. I hope most people will understand that the book is meant to be taken lightly.

7. You described God as Bette Midler-like. Which actors would you have play Skye, Ryan and Caroline?

Kate Hudson as my main character, Skye Sebring (a greeter in Heaven) because she has a sunny, angelic look. Matthew McConaughey as her love interest, Ryan, because he's so good with Kate and Ryan can be cocky at times. One of the main characters is a 85-year old black woman named Caroline and I'd like to Cicely Tyson in that role (with appropriate make-up of course.)

8. What would you use your Wishberry for?

Great art. I just love being surrounded by beautiful, creative works.

9. Was it easier writing about soulmates, having recently married yourself?

Yes, because before I met my husband I'd been single for over 20 years and had given up on finding 'the one'. Likely I would have been too cynical to write the book had I not met him and fallen in love at the age of 41.

10. What message do you hope readers will take from your book?

I write books to entertain. That's always my main goal but if there were a message it would be that love is the most powerful force in the universe.

11. Tell us about the Girlfriend Cyber Circuit.

I got the idea from Kevin Smokler's virtual blog tours. His tours always featured literary authors so I decided to start one just for women. We promote each other's work through our blogs. I've loved every minute of it and although I haven't met all the 'girlfriends' I feel a connection to them through this tour. The main goal initially was promotion but now the relationship and support of so many great authors is much more meaningful to me.

12. What are you working on now?

I've just finished writing a novel about some 40-something women who revive their 80s girl band.

13. Who are your favourite chick lit authors?

Emily Giffin, Jennifer Weiner, Melissa Banks and Suzanne Finnamore.

14. What is the best advice you could give a wannabe author?

Don't be in a big hurry. Learn the craft (it can take years and years) and read constantly. Becoming a writer is such a wonderfully satisfying journey there's no need to rush it.

15. And what Beatles song would sum up your lesson to them?

Eight Days A Week. Gotta write every day to get good!
---
---