JEMMA FORTE
Jemma Forte is a British TV presenter.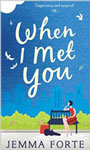 When I Met You (2015)
Marianne Baker and her older sister, Hayley, haven't seen their dad since he upped sticks and left them to move to Australia. Or so their mum told them. But one night he suddenly walks back into Marianne's life, explaining what really happened, and it's not an easy pill to swallow. It's time to make amends, but unfortunately Marianne's dad, Ray, doesn't have time on his side. Marianne is desperate to forge a bond with him, but Hayley's not one for quick forgiveness and it's not going to be easy with Marianne's spirited mother against the idea too. She also doesn't want to upset her easy-going stepdad, and then there's the matter of Andy, her holiday fling, who's landed on her doorstep and got his feet firmly under the family table when Marianne can't for the life of her remember what she ever saw in him. And with Ray, keen to know his daughters' lives will be settled, he's not afraid to dish out a few home truths. Once again Jemma Forte has produced an amazing novel, replete with a credible heroine, a larger-than-life cast of characters and a story that is engrossing and honest. There have been a spate of novels about terminal illness in recent times but the success of this one is that it doesn't get bogged down in sentiment. Indeed, although there's never any doubt over where the story is heading, Forte gives it incredible light and shade throughout by making this more than just a novel about illness, and packing it with humour. So whilst the ending is inevitably tear-jerking, Forte doesn't drag this out too long so this is much more than a sentimental, maudlin piece. And it's testament to Forte's skill as a writer that she very much keeps the comedic element alive in the novel. I would have liked to see an epilogue to complete Marianne's story but that aside there's little to dislike about this deceptively wise and powerful novel. (JC)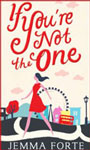 If You're Not the One (2014)
When 38-year-old Jennifer Wright's plans to seduce her husband, Max, devastatingly backfire, she finds herself in the unique position of being trapped in a coma in which she can access the different versions of her life that may have occurred with past boyfriends. Firstly there's holiday romance Aidan, young, fun and carefree; then there's university boyfriend, Tim, hardworking, ambitious and loyal, and finally loving, kind and caring Steve, the one before the one. How would each of these lives have panned out, and has Jennifer made the right decision with Max? Refreshing and original, this novel makes you consider the big what-ifs. I enjoyed the multiple threads in this story, and each of the different pathways felt fully fleshed out and distinct, playing out very different scenarios and realities. What I enjoyed most however was the fact that the author doesn't opt for a quick, easy and obvious route for the heroine but leaves a lot up to the reader, including (perhaps unappealingly for some) the ending. Max is certainly no flawless hero but would life with Aidan, Tim or Steve have been any better? (JC)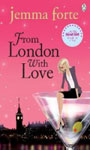 From London With Love (2011)
Jessica Granger is the daughter of James Bond actor Edward Granger, and her mother Angelica Dupree was voted the sexiest Bond girl. Jessica should feel privileged to have them as her parents but all she feels is unfulfilled. She has gotten every job because of her father and has not needed to work for anything. Fed up with having been brought up with a silver spoon in her mouth in LA, she decides to move to London and to change her surname to Bender so no one recognises her connections. Once in London she meets up with her Aunt Pam and lands a job in the TV industry where she works hard to keep her real upbringing a secret. With a possible romance with Peter - a writer for the show she works for - on the cards, Jessica starts to realise that she may lose much more than what she thought she would gain by being independent from her parents. This is a very funny read about one girl's self discovery as she tries to make it on her own and learning to be content with who you are. With lots of great references to the cultural differences between the US and England, I'm going to score it 008. (CG)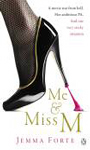 Me & Miss M (2009)
Fran has always dreamed of making it as an actress but apart from one very embarrassing advert, it doesn't look like she'll ever get that lucky break. So when she gets the chance to work as a personal assistant to American actress Caroline Mason while she treads the boards in London, she jumps at the opportunity. And then continues jumping at every opportunity as Caroline, who dates the sexiest actor on the planet Carson Adams, is one very demanding boss. But something is not right with the superstars' relationship and Fran's own fledgling relationship may not survive her taxing job. From the cover to the storyline, this is never going to escape comparisons with The Devil Wears Prada and although Caroline wasn't as nasty as expected and certainly no match for Miranda Priestley, this is still a highly enjoyable read that deserves a place on your must-read list. (Interestingly, there is a German version floating around retitled The Goddess Wears Gucci.) The ending leaves it open for a sequel.

---
---