MULTIPLE CHOICE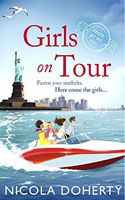 Nicola Doherty's five-part series of novellas has been combined into one volume called Girls on Tour. The summary says: "Four girls. One year. Five fabulous destinations. Poppy is bound for Paris, the City of Love. Could this be her chance to end her epic dry spell? Lily is en route to her cousin's wedding in LA, where she's willing to break a few rules to land her dream role. Maggie can't wait for her romantic ski holiday in Meribel - until it goes seriously off-piste. Rachel packs for a glamorous Roman holiday, but a blast from the past is about to sabotage la dolce vita. The girls get together and fly to Manhattan. But someone's been hiding a big secret in the Big Apple... Girls on Tour is an irresistible series of interlinked stories about four ordinary girls who have extraordinary fun in faraway places. Follow them in an unforgettable year that includes breaking up, making up, new jobs and some big surprises ..."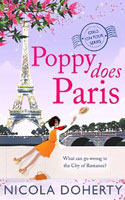 Poppy has not had a boyfriend in a long time but she finds her co-worker Charlie quite attractive, in a boyish, immature kind of way. He's definitely not her type. Their company sends them both to Paris to cut a deal with an author, whose book they're hoping to promote, and that sets off a sequence of events they're sure to never forget. This book - the first in the Girls on Tour series - was a very short, hilarious read, I read it in one hour before bed. Poppy is a great character trying to find her way through life and decides to shake things up a bit, but overlooks the obvious for what she thinks is a better choice. Charlie was absolutely charming and honestly funny. Maybe, Poppy realises, she had a few misconceptions. (KARM)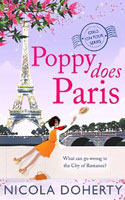 Nicola Doherty is releasing a five-part digital series in 2014-15 called Girls on Tour, "where ordinary girls have extraordinary fun in faraway places". The first novella, Poppy Does Paris, asks what can go wrong in the city of romance? The summary says: "Paris. City of love, city of romance. The last place you want to go to on a work trip when you're in the middle of an epic dry spell. But that's where Poppy is headed, along with her colleague Charlie, who's shallow and annoying but very, very good-looking. During a white-wine-fuelled session with her friends, Poppy concocts the perfect plan: work by day, and have some no-strings fun with Charlie by night. Of course, it might prove a little more complicated than that, but it's nothing Poppy can't handle - or is it?" Poppy Does Paris is out in July 2014. The others in the series are Lily Does LA, Maggie Does Meribel, Rachel Does Rome and The Girls Take Manhattan.
---
---