EMMA McLAUGHLIN
and Nicola Kraus
---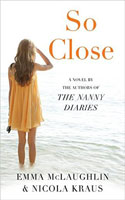 So Close (2016)
Mandy has grown up in a trailer park, needing to skip college to work menial jobs and help out her useless mother with the raising of her young brother. She is used to the struggle of making ends meet but has aspirations of rising above her disadvantaged upbringing. One day she meets three people who will change her life – rich boy Pax and politically ambitious lawyer Tom Davis and his wife, Lindsey. When Tom speaks at a political event, his words really resonate with Mandy and she ends up joining his campaign team, becoming particularly close to Lindsey. But is their world any kinder than the one she's come from? The parts about Mandy's background were eye-opening and you really root for her as she strives to rise above the hardships. The real relationship story here – rather than the on-and-off romance with Pax – was with the woman she so admired, Lindsey. And if you are after a story set in the political arena, this ticks all the boxes.

---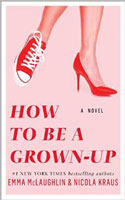 How to be a Grown-up (2015)
When Rory's actor husband, Blake, decides to take a break from their marriage, she needs a full-time job. So the freelance photo stylist and mother of two jumps at the chance to work at a media start-up. But she's seen as old school at JeuneBug – a luxury lifestyle website aimed at kids – which is run by two spoiled college grads, Taylor and Kimmy. This joins the collection of recent books that have focused on the workplace dramas of dealing with a younger boss. The ridiculous antics of the Jeune girls were entertaining enough but otherwise the unfolding story is not particularly memorable.

---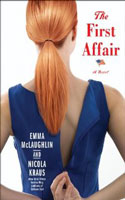 The First Affair (2013)
Jamie has scored herself an internship at the White House. When the interns are called into action during a government crisis, Jamie seizes the opportunity to make her mark. And she also gets the opportunity to get up close and personal with the charismatic President Greg Rutland. And when we're talking up close and personal, we mean Bill Clinton-Monica Lewinsky up close and personal. When I first heard about this book, I presumed the authors would take inspiration from the late 1990s scandal and spin off into an entirely different story. But no. The story pretty much mirrors the ripped-from-the-headlines saga - from the stain on the blue dress, to the gifted tie, to the intern's past with another man. All that was left up in the air was wondering which of Jamie's confidantes would emerge as Linda Tripp. The pace picks up when Jamie finds herself hunted by the media and officials trying to bring down the president. It's an interesting enough read but no points for originality.

---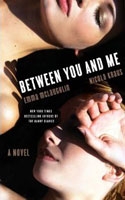 Between You and Me (2012)
Logan Wade may have a world-famous cousin but that doesn't mean she's living the rock star lifestyle herself. In fact, Logan hasn't seen Kelsey in years and doesn't know anything about her that she hasn't read about in magazines. So when Logan is invited to Los Angeles to see Kelsey and ends up becoming her personal assistant, it's easy to say that her new life is a far cry from her old one in New York. Globe-trotting, running Kelsey's baths and dealing with Kelsey's mum and dad who control everything is just the start. As far as Logan can see, Kelsey is being worked like a dog with no time off even when she is sick, but that doesn't matter to her parents who treat Kelsey like a small child and shelter her from the rest of the world. As time goes on Logan realises that Kelsey doesn't feel loved - even though she has the devotion of millions of fans - and when push comes to shove, Logan has to decide what she can and can't handle. Because even the best job in the world isn't worth your sanity - or watching someone you love come crashing down in flames. With well-formed (thought not very likeable) characters and a pop star who is reminiscent of Britney Spears when she had a breakdown, this is a fun novel about the other side of being a celebrity - behind the fame and fortune lies loneliness, heartbreak and exhaustion. However, the conversation seems stilted at times and the timeline seems a little hard to follow. Both of these things make it hard to really get into the story, so with this novel, you're either going to love it or hate it right off the bat. It's definitely not an easy breezy beach read as it has much more substance than initial expectations. (AS)

---
---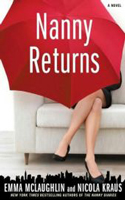 Nanny Returns (2009)
Twelve years after Nan left New York and the loathsome X family, she returns to the place that haunts her most. Back in the Upper East Side after travelling the world with her UN staffer husband Ryan (remember HH?), she finds many new dilemmas to deal with. First off, their return to the city seems to prompt HH to want to start a family, something that scares Nan as she feels she isn't ready to be a mother yet. Then while her husband is away on business, a knock on the door in the middle of the night reveals her former charge, Grayer, now an out-of-control adolescent, drunk and looking for Nan. Not wanting to turn him away, Nan lets him in and in doing so brings back a part of her past that she would much sooner forget. Meanwhile, her new consulting business brings her in contact with the trials and perils that come after nannying - private school. What makes this book even better is that it's set with the dissolving economy as the backdrop, showing what happens when the super wealthy families lose the money they so love. Humorous and witty with many of the characters returning from the first novel, this is a completely addictive page-turner. (AS)

---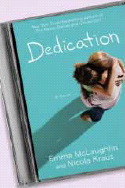 Dedication (2007)
Kate Hollis gets a phone call from her best friend Laura that her ex-boyfriend, pop star Jake Sharpe, has come back to their Vermont hometown with a fiancée in tow. Kate immediately hops on a plane, just a few days before Christmas, with the intention of confronting him. Since Jake just up and left her 13 years ago, his recording career has laid bare some of their most private relationship moments, including his breakout hit Losing, about their first sexual encounter. With flashbacks to high school, the story takes Kate from her days of pining for a distant Jake to him standing her up at prom. Now she's back in his life, will she exact revenge and find closure?

---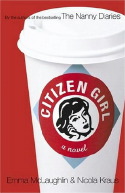 Citizen Girl (2004)
Recent graduate Girl has had a feminist upbringing and been taught to make a difference. After being fired from her non-profit job for standing up for her rights, she meets Guy at a networking event and he hires her to work for My Company. Her role is to attract Ms magazine into the company's net site. But Girl plans to use her place in corporate America to extract a huge donation for a woman's charity. One of the most panned chicklit books, it's in our Top 10 Most Disappointing.

---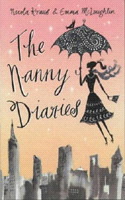 The Nanny Diaries (2002)
Nan is working as a nanny while studying child development at NYU. She is hired by Mrs X, a woman who neither works nor mothers her four-year-old son Grayer. The father, Mr X, is an investment banker who is so absent from G's life that he carries around his business card like a cuddly rug. As Nan's duties expand - organising a dinner party for Mr X's colleagues; heading to an office party as a Teletubby, sleeping over when G's parents are nowhere to be found - she desperately wants to quit but finds she can't abandon G.