ELLEN BERRY
---
The Little Bakery on Rosemary Lane (2017)
Roxanne is a well-respected magazine fashion director but her new editor Marsha brings in someone to oversee her department. So Roxanne takes a sabbatical to reconsider her career options, heading to a small Yorkshire village where her sister Della runs a bookshop that specialises in cookbooks. There she meets Michael, who has just opened a new bakery – which was his wife's dream before she ran off with a tradesman.
The second in the Rosemary Lane series, this story focuses more on Roxanne, rather than the bakery, so if someone is picking it up for foodie fiction, they may be a little disappointed. However, I loved that the story focussed on Roxanne's career and relationship woes and how the forty-something found her feet at a more relaxed pace.

---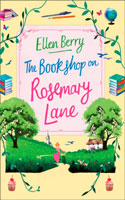 The Bookshop on Rosemary Lane (2016)
When Della's mother Kitty dies, she leaves behind her Yorkshire cottage and hordes of cookbooks – more than 900 in fact. With her daughter Sophie off to university, Della is feeling at a bit of a loose end. So despite her husband Mark's reluctance, Della decides to open a bookshop that will specialise in second-hand cookbooks in the newly vacant haberdashery store. Della is the sort of woman who has always been dependable and accommodating but now she wants to do something for herself.
The result is a very pleasant, feelgood story – although if you are expecting a book all about recipes or bookshops, this is not it. It's the first in a series that centres around the people who run businesses on Rosemary Lane.