INTERVIEW
July 2011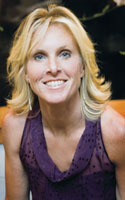 Elin Hilderbrand is the author of 10 novels, including Barefoot and The Castaways. Her latest novel, Silver Girl, was published last month and is centred around the wife of a man imprisoned for financial fraud. She lives with her husband and three children on Nantucket, where many of her books are set.
1. Tell us about how the story of Bernie Madoff's wife inspired your latest novel Silver Girl.

In April 2009, I read an article in the New York Times Sunday Style section called "The Loneliest Woman in New York". It told the story of Ruth Madoff and how she could no longer get her hair colored at her salon and no longer eat out at her favorite restaurant, and something about the article pierced me. I thought, "All right, if she was conspiring in the crimes, this isn't interesting. But if she knew nothing about it, this is Biblically tragic." I decided I wanted to write a novel about a woman whose husband committed massive financial fraud where the woman knew nothing about it.

2. What is it about Nantucket that makes it a great setting for your books?

Nantucket is one of the last remaining authentic places in America. It has cobblestone streets and Quaker meetinghouses and no traffic lights and no chain stores. It also has fifty miles of pristine public beach. It's one of those places that people fall in love with because there is no place else like it.

3. Do you travel much for research purposes?

My husband and I have traveled extensively with our kids. We've taken them to Thailand and Vietnam and to Australia five times. My next book is partially set in Australia, so I was able to incorporate details from my trip there last winter.

4. What did you get up to on your most recent Australian trip?

We always rent a house in Fremantle, which is in Western Australia. It's my second favorite place on earth. We also spend a week or ten days in Margaret River, which is the wine country south of Perth. This year, as something different, we did a week in Sydney, a week in the Barrier Reef and two days in Ayers Rock. Fabulous!

5. What do you think of your title as Queen of Summer Novels?

Ha! It's something I've worked hard to earn. I love it. At home with Chip and the kids, I'm just known as The Queen.

6. Did you consciously set out to create that niche for yourself?

I think it happened pretty organically. When I chose to live on Nantucket and write about Nantucket, the beach read thing just happened. I am a big lover of summertime. And my day-to-day life and work includes biking to the beach, playing tennis, making lobster salad sandwiches and taking them out on the boat for a sunset cruise. I try to enjoy each summer day to its fullest. Last night we took the kids to the beach for dinner and they swam until it got dark and did sparklers and played flashlight tag. It was heaven.

7. What elements make up the perfect beach read for you?

I like any book with great characters and a strong narrative pull. Nothing too taxing, and nothing DULL!

8. One regular theme you keep returning to is women bonding or overcoming difficulties while holidaying together. Why does that appeal to you so much?

Think about taking a trip with your best girlfriends, or your sister - doesn't that appeal to you? I find relationships between women to be the most fascinating of all relationships, and I think that when women are away together, with time to relax and reflect, the possibility for real connecting exists.

9. How has your writing evolved over the years?

I think, I hope, my writing is getting better. I read all the time, and I'm always looking for new subject matter or new ways to write about old subject matter. I am also a student of human nature, and I really try to understand other people and what motivates them to act as they do.

11. What are you working on now?

I'm nearly finished a novel called Summerland. It's about four teenagers and the parents of those teenagers, set on Nantucket right after high school graduation.

12. What is the best feedback you've received from a reader?

I love hearing from women with jobs and children who say that they never have time to read - but that they always read my books. That lets me know that I have achieved my goal. We all face a hundred distractions a day, but with a good book on your night table, life is just a little bit better!
---
---