INTERVIEW
September 2009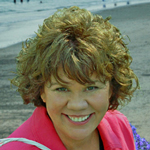 Claire Cook is the bestselling author of six novels, including Must Love Dogs and Life's a Beach. Her latest book The Wildwater Walking Club inspired her to start walking 10,000 steps every day. She lives in Massachusetts. (Interview by Angela Smith)
---
1. What is your new book The Wildwater Walking Club about?

When Noreen Kelly takes a buyout from her job and gets dumped by her boyfriend in one fell swoop, it's one step forward and a huge slide back. Noreen hopes her redundancy package will be an opportunity for growth, a chance to figure out what to do with the rest of her life while her company foots the bill. For the first time in a great many years, Noreen has time to herself. And she has no idea what to do with it - except notice everything that's missing in her life. Noreen knows that she has to get moving, so she puts on a new pair of sneakers and a seriously out-dated pair of exercise pants and starts to walk. She's joined by Tess, the teacher next door, who thought she'd be spending the summer with her college-bound daughter, but now that daughter isn't speaking to her. The Wildwater Walking Club is complete when they meet Rosie, the dutiful daughter who moved on to her parents' lavender farm after her mother died -and dragged her family with her. As the Wildwater women walk and talk, and talk and walk, they tally their steps, share their secrets, and learn what women everywhere are finding out - time flies and getting fit is actually fun when you're walking with friends. Throw in a road trip to Seattle for a lavender festival, a career coaching group that looks like a bad sequel to The Breakfast Club, a clothesline controversy that could only happen in the 'burbs, plenty of romantic twists and turns, and a quirky multigenerational cast of supporting characters and you've got The Wildwater Walking Club!

2. What made you start walking when you started writing this book?

I thought if my narrator was going to hook on a pedometer and try to walk 10,000 steps a day, I should, too, so I'd know what she was going through! I've always walked, but I've never used a pedometer, and it turned out to be a great motivator. It really keeps you honest - it might feel like you've gotten your 10,000 steps in, and then you look down and see that you've only walked 7000 steps, which inspires you to take another loop around the neighborhood after dinner. And I think it's also a great reminder that even big changes happen one step at a time.

3. Why do you feel it's so important for others to start walking 10,000 steps each day?

First and foremost, walking ALWAYS makes you feel better. It's also free and easy to do. It's a great way to spend time with those friends you never get to see, and catch up on all the latest gossip! It increases your mental wellbeing and focus, helps control body weight and reduce body fat, reduces the risk of coronary heart disease and stroke, reduces high blood pressure and high cholesterol, increases bone density, improves osteoarthritis and reduces the risk of colon cancer. What's not to like!!

4. Your previous book Must Love Dogs was turned into a movie. How did it feel to see your book up on the big screen?

The biggest gift of the Must Love Dogs movie was that so many new readers have discovered my novels because of it. As an author, you really just want readers to find your books! The movie experience was tons of fun - I got to hang out on the set and be a part of the process, and even walk the red carpet at the Hollywood premiere. For a while there, my two teenagers thought I was almost cool! It was a total blast!

5. Do you see any more of your books making their big screen debut in the future?

Yes, I think it will happen again. I've had a couple others come close but Hollywood is a crazy place, so usually movies fall apart somewhere along the way to the big screen. One of the things I've learned is to be really happy when something like that happens, but not to spend two seconds worrying about it when it doesn't. My goal is to stay focused on becoming the best novelist I can possibly be.

6. Why is it that dogs are commonly found in your novels? Do you have any pets yourself that help inspire the creation of the dog character?

That's funny! I don't think dogs are any more common in my novels than other details of domestic life. I've just finished a draft of my seventh novel, and dogs figure into two of the seven. In my real life, almost everyone I know has a dog!! Yes, I do have a dog - she's a shar pei/Lab mix. Her name is Daisy Mei and she looks like a wrinkled black lab.

7. What do you see yourself doing in the next five years?

I'm doing exactly what I dreamed of doing for many years, so I'll keep writing. After decades of being afraid and 16 years of teaching, I finally wrote my first novel in my minivan in the parking lot outside my daughter's swim practice. It was published when I was 45, and at 50 I walked the red carpet at the Hollywood premiere of my second novel. I'm now the bestselling author of six novels, with a seventh on the way, and I'm absolutely living my dream! I hope my story holds out hope to other women with buried dreams of their own. If I can do it, you can, too!

8. You interact with your readers much more than some authors. Why is the interaction so important to you?

I realize that without my readers, I wouldn't have the coolest job in the world, so I'm totally grateful to them. They've buzzed my books to their friends and families, posted great reviews online - really given me such incredible support! My readers also help me feel connected to the world I'm writing about, which is really important - I've received over four million hits on my website, www.ClaireCook.com. I try to give back on my site, too - I have a page for aspiring writers where I share everything I know, and I also do fun giveaways for readers.

9. How did you get started as a writer?

I've known I was a writer since I was three. I majored in film and creative writing in college, but chickened out when it came to pursuing my dream of becoming a novelist. Hindsight 20/20, I guess I knew how to write, but not what to write. Looking back, I can see that I had to live my life so I'd have something to write about, and if I could give my younger self some good advice, it would be not to beat myself up for the next couple of decades. But I did. At the same time, I pretended I wasn't feeling terrible about not writing a novel, and did a lot of other creative things. I wrote shoe ads for an in-house advertising agency for five weeks, became continuity director of a local radio station for a couple of years, taught aerobics and did some choreography, helped a friend with landscape design, wrote a few freelance magazine pieces, took some more detours. Eventually, I had two children and followed them to school as a teacher, where I taught everything from multicultural games and dance to open ocean rowing to creative writing. Years later, when I was in my 40s and sitting in my minivan outside my daughter's swim practice at 5am, it hit me that I might live my whole life without ever once going after my dream of writing a novel. So, for the next six months I wrote a rough draft in the pool parking lot, and it sold to the first publisher who asked to read it.

10. What's next for you?

I'm working on the revisions for my next novel, which will be out in June 2010. And the Today Show came to my house to interview me and also taped one of the reinvention workshops I teach for women. There are photos up on my website.
---
---