CLAIRE COOK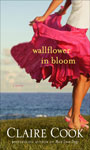 Wallflower in Bloom (2012)
Deirdre works as assistant to her new age guru brother, Tag, and lives on the family compound. One day, after her ex announces he's having a baby with his new partner, Deirdre gets so fed up with her brother that she quits and drowns all her sorrows in vodka. Using Tag's extensive online following, she gets herself voted in as a last-minute replacement on Dancing With the Stars. Partnered with professional dancer Ilya, Deirdre steps out of her brother's shadow and into the limelight. This is a heartwarming story and Deirdre is quite a sassy heroine despite her shrinking violet status. There is not much DWTS stuff though and at under 300 pages, the story ends on the night of the first performance.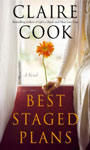 Best Staged Plans (2011)
With two grown children and a house too big for their needs, Boston home stager Sandra Sullivan and her husband, Greg, are ready to start enjoying the next phase of their life. That is if she can get Greg and their son, Luke, to focus on readying the house for selling. Growing increasingly frustrated with their lack of help, Sandra decides enough is enough, issues an ultimatum and heads to Atlanta to work on a renovation project with her best friend's boyfriend, who recently purchased a boutique hotel, and visit with her daughter and son-in-law. However, almost immediately upon her arrival, Sandra's daughter, Shannon, announces she's received a promotion and is heading to Boston for a month of training, leaving Sandra alone with her son-in-law, Chance, for the duration of the project. And just when she thinks things can't get any worse, Sandra begins to suspect her friend's boyfriend is cheating on her. So much for leaving the drama at home. Cook has given us relatable characters dealing with everyday issues and frustrations in a witty, yet smart, way. There are more than a few laugh-out-loud moments and readers will no doubt find bits and pieces of Sandra in themselves, as she deals with family, life and the loss of her reading glasses. (LEK)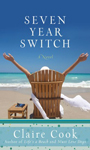 Seven Year Switch (2010)
Jill Murray was abandoned by her husband Seth seven years ago, when their daughter Anastasia was just three years old. On her own Jill has had to work two crazy and very humorous jobs just to make ends meet. Without warning, Seth contacts her and lets her know he is back, and ready to be a part of his daughter's life. Jill wants to keep him away from Anastasia but softens when she sees her daughter's reaction to the news. On one of her many side jobs, Jill meets a fascinating businessman headed to Japan. Just as she thinks her life is getting back to normal, she finds out Seth wants her back. Does she need to move on and see what the future holds with somebody new, or rekindle an old flame and have her family back intact? If you want to take a vacation from your own life, this book is a breath of fresh air. (AV)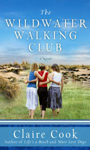 The Wildwater Walking Club (2009)
Claire Cook has once again created a heartfelt story with wonderfully relatable characters. Noreen accepts a buyout from her job in Boston at the urging of her not-so-faithful secret boyfriend. Not knowing where to go next, she realises that she never had much of a life outside of her job. She never even took the time to get to know any of her neighbours or even the basic details of her neighbourhood. So she decides to take the time to do so now that she has a lot of free time by walking. Each page starts out by showing you how far Noreen walked, eventually accumulating to 10,000 steps. She soon becomes friendly with two neighbours on Wildwater Way and they create the Wildwater Walking Club. Both of Noreen's new friends are having issues in their life and walking provides a healthy way for them to vent and stay in shape. Tess has a teenage daughter who is quite rebellious and is driving her crazy. Rosie has moved in with her father after her mum died to help run his lavender farm. Together the three help each other through life's ups and downs and also go on a trip to a lavender festival across the country in Washington. Through everything that comes their way, the three always walk away their woes. This is an excellent novel weaving together the importance of friendship and fitness. (AS)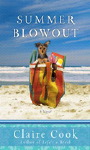 Summer Blowout (2008)
Make-up artist Bella is part of a madcap family that runs a chain of hair/beauty salons. She is obsessed with lipsticks, her Irish dad pretends to be Italian and her half sister has run off with her husband. When a dog-sitting experience brings a new love into Bella's life, she goes to desperate lengths to keep it. But will she be so open with Sean, who helps spark her entrepreneurial passions? A read that's fluffy, and heartwarming - just like Precious/Cannoli the dog.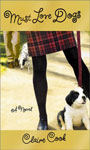 Must Love Dogs (2002)
Sarah Hurlihy, a 40-something divorced preschool teacher, is about to delve back into the dating world, putting a personal ad in the newspaper for a man who 'must love dogs'. Although her first date with a man with a yellow rose turns out to be a disaster, to put it mildly, she soon finds herself with more than one man on her radar, including John Anderson, who borrowed a dog for their first date, and Bob O'Connor, the father of one of her students. If only her interfering family would stop turning up at the most inopportune times. This book was adapted into the 2005 movie, starring Diane Lane and John Cusack.

---
---