CARRIE HOPE FLETCHER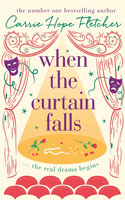 In 1952, making her West End debut in the lead role for When the Curtain Falls, Fawn Burrows meets stage door man Walter Brown and the pair promptly fall in love. But under the possessive eye of producer Hamish Boatwright, their relationship is doomed and ends in tragedy. Some seventy years on, the show is being brought to life once more, with young stars Olive Green and Oscar Bright, but will this second performance be as cursed as the first?
Written by West End star Carrie Hope Fletcher, she transports readers believably into the world of the theatre, and it proves to be a great setting and context for a novel. The book alternates between sections set in 1952, focusing on Fawn and Walter, and those in 2018, featuring Olive and Oscar, and for me the earlier storyline had much more depth and substance than the modern-day scenes, which felt a bit too cliched.
The pace also feels a bit too rushed in Olive and Oscar's storyline, whereas Fawn and Walter's narrative seems much more natural. And for me Fawn and Walter were the more interesting, appealing and nuanced characters. Unfortunately I felt it was a case of one half of the dual narrative letting the other half down, which in turn affected the whole impact and quality of the book. (JC)

---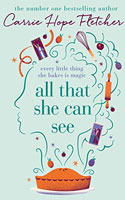 All That She Can See (2017)
Cherry can see other people's bad feelings. After the death of her father, she takes over his bakery and starts adding something special to her recipes that helps customers feel better about themselves. Every few years, she moves on until she lands in Plymouth where she meets someone with similar powers and things take a dark turn.
This was an interesting and quirky read that I flew through in a day. In terms of mystical realism, this story weighs heavily towards the magical spectrum, with a omnipresent narrator overseeing the telling. It was more about explaining the imaginative concept of people having feelings hanging around with them, rather than a tale of a baker with a special gift interacting with the locals in a new town. The story spins off into even more unexpected territory in the the second, dystopian-like part. Like the characters, some readers will have good feelings about this book, others not so much.

---
On the Other Side (2016)
At 82, Evie passes away during her sleep but finds herself in a place where she is 27 again – an important time in her life. But she can't make it through to her heaven because her soul is too weighed down. She needs to unburden herself of secrets she has kept from her loved ones during her life. The story travels back in time to when 27-year-old Evie was an artist at a newspaper and fell in love with violinist Vincent, a busker at a train station. But her mother is insisting that she return to the family home and marry lifelong friend Jim instead.
This debut novel from a young stage actress and YouTuber (and sister-in-law to Giovanna Fletcher) is a sweet, romantic, uplifting story with a fairy tale feel. Even though I'm not a fan of magical realism – and some of this was a bit too far out there for me - I did love her explanation of the afterlife and Evie's mission. But I certainly did miss having any context for the era Evie came from, and really felt for poor old selfless Jim.