CARMEL HARRINGTON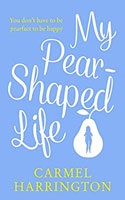 My Pear-Shaped Life (2020)
Greta Gale is an overweight Irish actress who hasn't had a big break since starring in a Christmas commercial as a kid. She tends to hide her insecurities behind self-deprecating humour but her issues are about to get her in trouble. Maybe the world-famous motivational speaker who shares her name may have the wisdom she seeks.
This is a visually rich and life-affirming story which follows Greta as she sets off on a Wizard of Oz-inspired journey from stormy times to self-acceptance. Get ready for a road trip that is both magical and relatable.

---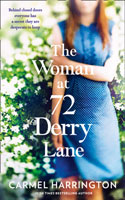 The Woman at 72 Derry Lane (2017)
Stella appears to lead a beautiful life, living in a leafy Dublin suburb but no one knows what goes on behind closed doors. Neighbour Rea has heard the noises from next door but due to her personal issues she can't step foot outside her front door to help. In between their chapters is the story of an Irish family who save up for the holiday of a lifetime.
This is one of those books where it is best to go in knowing very little about the plot. It's an extremely powerful read about broken lives, which will wring every emotion out of you. Its dramatic scenes are superbly handled and will make you feel you are right there besides the characters. Truly outstanding.

---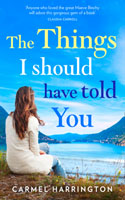 The Things I Should Have Told You (2016)
When the Guinness family lose their Pops to cancer, things couldn't look bleaker. Olly has lost his job and can't find a new one, Mae is wondering if their marriage will survive, while their teen daughter Evie is pushed to the limits by school bullies and young son Jamie has started wetting the bed again. But then Pops leaves them a parting gift – an eight-week road trip around Europe in a big camper van.
Told from the viewpoints of each family member, this is a touching story of a family reconnecting on their journey. If you're looking for a heartwarming, moving and inspirational read, jump on board.

---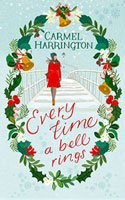 Every Time a Bell Rings (2015)
Being a parent is hard enough when you are raising your own children, but Jim and Belle Looney have been parents to many over the years in their role as foster parents. Letting go of one child, yet being ready to receive another takes its toll on Belle. Her heart breaks when young Lauren is returned to her mother a few days before Christmas. The loss of Lauren and the emptiness of their home sees Jim and Belle arguing and follows with Jim crashing the car one icy night. The possible loss of Jim as well becomes too much to bear. With the magic of Christmas, an angel hears Belle's wish... is it too late for Belle to recognise her heart is one which gives others hope?
Yet again, Carmel Harrington has created a magnificent story full of heartbreak, love and hope. Readers will warm to the characters and may just find a piece of themselves in the storyline. With the Christmas spirit wrapping every page, Every Time a Bell Rings is simply perfect! Inspired by the film It's a Wonderful Life, this is an emotional story which will definitely be well received by readers everywhere. (MP)

---
The Life You Left (2014)
Sarah Lawler awakes one morning to a strange email from her husband. He isn't coming home. Questions begin to filter through her mind. Is he OK? Where is he? What did I do wrong? How could he need space from his three children?
From that moment, Sarah has to pull herself together and continue caring for her three children. Shifts at work are becoming few and far between and the bills are piling up. Her twin brother, James, does all he can to bring some normalcy into the lives of the children who are desperately missing their father.
And then there is Edward... Sarah's childhood friend. His return in Sarah's life is at first overwhelming and a sign of trouble for James. Through communication with Edward, Sarah recognises there are changes which need to be made and with his help, Sarah will realise just how strong she is.
Carmel Harrington has done it again with this brilliantly written second novel. It is about family, change, love, loss and finding within oneself an undeniable gift. As Sarah's journey unfolds, one cannot help but want to be a part of her life - to help her see this journey through to the very end.
This time around, there are two villains ... one of which you will want to slap and the other of which you will want to hurl abuse at. You will fall in love with Edward and admire Sarah's strength in adversity. You will envisage things you never thought possible and most of all you will finish this novel in one sitting because you simply cannot put it down. Highly recommended and a must read! (MP)

---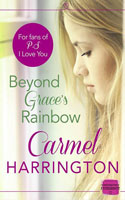 Beyond Grace's Rainbow (2013)
Grace Devlin, a single young mother, receives devastating news which will change her life and the life of her young son. With her only chance of survival a bone marrow transplant, Grace must reopen the search for her biological mother. If news of her cancer isn't bad enough, the reappearance of the child's father becomes another obstacle to either overcome or embrace. With friends Tara, Sean, Tom, Gerry and Abby as her family and support, Grace's journey is one filled with deceit, uncovering truths and lies, but also being open to the prospect of love. Will Grace get the bone marrow she needs to survive to see her little boy grow up in a world where nothing is ever quite as it seems?
From the moment the first page is turned, the reader is transported to Grace's world, where we are shown love, honesty, triumphs and tribulations. Harrington's novel is realistic where the characters are entwined together through Grace's story; but each with their own individual needs and wants. You will cheer for Liam who has overcome his alcoholism and take pride in his approach to parenting and falling in love.
You will recognise Tara's temper and her protectiveness over her friends. You will see compassion and love through the eyes of Doctor Sean. You will love the flamboyance and tenderness between the loveable couple Tom and Gerry (yes you read that one right!). You will see your younger self through the world of Abby as she tries so hard to find her one true love. As young Max's smile fills a room with warmth and love amongst his surrogate aunts and uncles, you too will remember what it was like to be a child surrounded by so much love. And finally, there is Grace. A pillar of strength. A mother. A friend. A lover. A daughter. A sister. (MP)