Candace Bushnell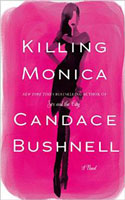 Killing Monica (2015)
Pandy Wallis is the author of a best-selling book series, which has morphed into an even more successful film franchise. With the public head over heels in love with her main character Monica, Pandy has been enjoying the high life that Manhattan and her big advances offer. But now Pandy wants to write a serious historical novel based on her ancestor Lady Wallis but her publisher isn't keen. Meanwhile Pandy's going through a nasty divorce from her chef husband Jonny and has fallen out with SondraBeth Schnowzer, the actress who plays Monica. As Pandy wonders how she can get her life back on track, all roads seem to point to her killing off her famous creation. Although Candace Bushnell denies the link to Sex and the City and Sarah Jessica Parker, her own most famous creation looms large over this story. Despite being an enjoyable guilty pleasure read, the storyline does get rather convoluted and maybe would have worked better in a different order, with more emphasis given to certain aspects of the plot. It's a story about identity, all wrapped up with a feminist message - with the worst character name ever (Schnowzer, really?).

---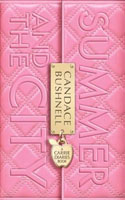 Summer and the City (2011)
Carrie Bradshaw is ready to take on New York and make it her own in this fun and frothy follow-up to The Carrie Diaries. While Carrie may be a fashion icon today, she wasn't always that way. When Carrie arrived in New York she was promptly mugged and had no choice but to ask her high school friend Donna's cousin Samantha for help. While Carrie is a virtual newbie to the New York scene, Samantha is someone who knows everything about the Big Apple and better yet, she knows everyone there is to know. As Carrie gets swept up in the glitz and glamour of the parties and people she meets, she finds herself dating an older, more fabulous man and writing plays while attending her first real writing course. But, can this country sparrow make it in the big city on her own? As Carrie soon learns, making it in New York isn't as easy as she first thought. New York will either accept you or spit you back out. Though the book starts off great, it slowly becomes more about Carrie and her obsession with losing her virginity, which turns the novel into something silly and frivolous. However, you have to give it to Carrie, because she has the tenacity and drive to actually make it in New York, even when it seems that she isn't good enough after all. (AS)

---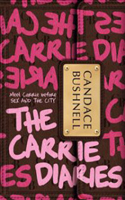 The Carrie Diaries (2010)
This prequel to Sex and the City follows Carrie Bradshaw during her senior year of high school in Castlebury, Connecticut. Castlebury is a small town and Carrie has known her group of friends her whole life. Carrie and her best friend, Lali, decide that they need to get boyfriends during senior year, but the only new boy is Sebastian Kydd, who lived in Castlebury years ago and whom Carrie fell in love with when she was 12. Now that he's back and every girl wants him, Carrie is sure she doesn't stand a chance. When Sebastian decides that he does in fact want Carrie, things change. For one thing, she's considered a boyfriend stealer because the most popular girl in school, Donna Ladonna, was dating Sebastian first. Even worse is the fact that Carrie is harassed by Donna and her clique while Sebastian revels in the girls fighting over him. Meanwhile, Carrie has issues at home - specifically with her younger sister, Dorritt, who has taken to colouring her hair blue and stealing things to get attention. Plus she has to deal with her dad telling her to go to Brown when all she wants to do is become a writer. While her father dismisses her writing as a hobby, Carrie meets a handsome tour guide at Brown who offers to help her with her writing. He also offers her the opportunity to spend the summer in NYC. Before she can take him up on the offer, she needs to perfect her writing and what better way than to write for her high school paper, The Nutmeg. Although, she decides to use a pen name, Carrie's articles are a hit and have the whole school talking. This book gives a real glimpse of Carrie as a teenager. She's vulnerable and a little rebellious but there are pieces of her youth that have had a telltale effect on her life as an adult. Even though there is no Mr Big in this novel, Carrie does find a relationship that is similar with Sebastian. It's fun, entertaining and you won't want to put it down until you find out who Carrie meets in New York. A definite must-read whether you're a Sex in the City fan or not. (AS)

---
One Fifth Avenue (2008)
It seems even when you have millions, it's still hard to love thy neighbours. After society matriarch Louise Houghton dies, a new couple move into her three-floor apartment at the prestigious Manhattan address One Fifth Avenue. Paul and Annalisa Rice have made their fortune through his mathematical genius. He's now a ruthless hedge fund manager while she's reluctantly given up her glittering law career to cruise the social circuit. Their neighbours include gossip columnist Enid and her nephew Philip, a Pulitzer Prize-winning writer. Philip's former lover, Hollywood actress Schiffer Diamond, has just returned to town for a TV series but his new research assistant Lola is a girl on the make and has him firmly in her sights. Then there's media executive Mindy, whose position as head of the building's board allows her to poke her nose into everyone's affairs. She lives with her as-yet unsuccessful author husband James and their computer-savvy teenager Sam. Throw in a stolen treasure mystery, some bitchy bloggers and plenty of neighbourly feuds - and you have a tale that showcases all seven deadly sins.

---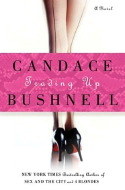 Trading Up (2005)
After her hugely popular Sex and the City, the book that turned into a much-loved TV serial, there were great expectations about this sequel to Four Blondes. But while her earlier book was often described as a social satire, here you might find that you do not enjoy following the fates and follies of the heroine Janey Wilcox, a lingerie model, anymore. In fact, Janey soon becomes insufferable, and if we plod on, we realise that Bushnell portrayed it that way to show how vacuous some lives are. Janey meets and marries the incredibly wealthy Seldon Rose. Will marriage make her a better person? There is plenty of glamour and glitz and this light read will best suit those who love to find out about the lives of the rich and the famous. (AC)

---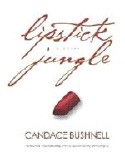 Lipstick Jungle (2005)
It's a jungle out there but for three New York businesswomen - magazine editor-in-chief Nico O'Neilly, movie executive Wendy Healy and fashion designer Victory Ford - they have risen to the top of their fields. Nico has a stellar career but the passion has gone out of her marriage. Will her attraction to a younger man (underwear model Kirby) derail her ambition to become the first female CEO of Splatch-Verner? Wendy, the president of Parador Pictures and mother of three, heads to Romania to sort out set problems on a potential Oscar-winning movie, as her marriage to Shane dissolves. And Victory's Fashion Week collection doesn't go down too well so she is forced into looking at partnership deals to keep her company afloat. As she starts dating cosmetic entrepreneur Lyne Bennett, she also learns lessons about what she wants from love.

---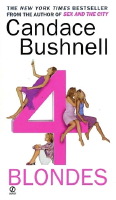 Four Blondes (2001)
This book comprises four novellas about four blondes who belong among the circle of the rich, the beautiful and the powerful of Manhattan. The first story - Nice 'N Easy - is about former model Janey Wilcox who is obsessed with spending her summers in the luxurious houses in the Hamptons and will go all the way to get her summer dream fulfilled even if that means hanging out with a string of equally warped but wealthy summer boyfriends. The second story - Highlights (For Adults) - encompasses the life of a political/style columnist, Winnie Dieke, and her troubled relationship with her unambitious journalist husband. Platinum, the third story, chronicles the life of a neurotic princess, Cecelia, who has her own demons to slay. She is living the Cinderella story where she meets and marries her Prince Charming but what ensues is the tale of her sufferings in her own personal hell. And the final story - Single Process - describes the quest of a 40-something sex columnist, who travels all the way to London on an assignment but deep down she is searching for her dream (English) man. Her search is triggered by the fact that a woman in spite of having all the quintessential qualities won't be able to even bag a date in America whereas in London the same woman will not only find her Mr. Right but will also get a "big ring, big house, adorable children and her happily ever after". With her hallmark vitriolic manner and sharp satire, Candace Bushnell portrays the dark side of these blondes who are glamorous on the outside but inwardly they are unfulfilled. The four blondes come across as insipid and shallow. All the stories keep up the glamorous facade but in the end it all feels ultimately unsatisfying. (PD)