INTERVIEW
January 2008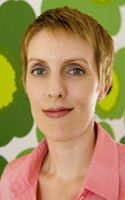 Allison Rushby is the author of eight novels, including some young adult titles. She studied journalism and Russian at university before writing for wedding magazines. Her debut novel, allmenarebastards.com, came out in 2000. Her latest book The Inner Gentleman is written under the name Alli Kincaid. The Brisbane-based author is married with two children.
1. Tell us about your new release The Inner Gentleman.

The Inner Gentleman is a bit of a cross between Footballers' Wives and Pygmalion/My Fair Lady. It's all about Mia, a British aristocrat, whose family has been hiding from the press on a Tasmanian berry farm for the past 20 years or so. As a favour to her cousin, who runs a company called The Inner Gentleman, Mia must head to London and give wayward footballer Josh Watkins an unwanted makeover. She plans on a quick, eight-week turnaround but she hasn't bargained on Josh being quite so much work, or quite so charming, either.

2. Did you have to do much research into "bachelor training"?

In a way, yes! The idea for The Inner Gentleman came from reading a tiny piece in a magazine about a Melbourne guy who actually does footballer gentlemanly makeovers. What caught my eye about the piece was how he spoke about the importance of focusing on their inner, rather than their outer, gentleman. He talked a lot about how it's easy to give them a new suit and a haircut and call them gentlemen, but how it's harder to bring their inner gentleman forth. It was an appealing concept to work with. I tracked him down and had a talk about my ideas for the novel and have spoken to several other interesting experts for research purposes - the editor-in-chief of FHM Magazine, the author of a book on manners, a guy who runs a website that discusses how to be a gentleman and a man who runs a course on how to be an 'ethical bachelor'. It's been an enlightening process!

3. Why did you publish the book under the pseudonym Alli Kincaid, and how did you choose the name?

It was a joint decision between my publisher and myself. My first novel was published when I was 24 and I'm now almost 10 years older (don't know about wiser, but I'm definitely older!). I've also married and had kids and so on. I think my writing has changed a lot because of these factors and thought a change might be a good idea. As for Kincaid, to be truthful (several of my very smart readers have pointed it out to me!) it sits right in between Marian Keyes and Sophie Kinsella on the shelves. They're two of my favourite authors and I would hope that their readers would also like my books.

4. What is it about Mia that will appeal to readers?

I think Mia's determination, in particular, is appealing. She knows what she wants and she'll go through hell to get it. She realises some things are worth fighting for. She's a character who's often being pulled in two different directions and who hasn't felt like that at times?!

5. What are your writing plans for 2008?

I'm currently finishing off a young adult book I've been working on for some time (two little kids do tend to slow you down a bit!). I'll also be continuing with what I call my 'mummy writing' (I write a lot of Erma Bombeck-style pieces about my family and daily life as a mum for the newspapers). I'll be revising Mad About Moo and maybe fitting something else in as well - I'm not sure what that will be yet. Probably a breath or two. Maybe even a shower!

6. Tell us about Mad About Moo
(released in the US as The Dairy Queen).

Mad About Moo was so much fun to write. It's about Dicey and her sister Titch and best friend, Sally. The three all hail from the town of Moo (a strange little place all painted black and white in the hope of drawing in the tourists). In a strange coincidence the girls' lives all fall into a heap at approximately the same time and they slink back into their hometown to hide out for a bit on what used to be the family dairy farm. All three of them learn a lot about failure and the ups and downs in life.

7. If you could invite three fictional characters to dinner, who would they be and why?

Definitely Sophie Kinsella's Becky Bloomwood, for a start, as she'd provide the evening's entertainment single-handedly and we'd need that, because next up I'd invite Eva Khatchadourian (from Lionel Shriver's We Need to Talk About Kevin), I have a lot of questions for her! Finally, I'd invite Joyce Lankester Brisley's Milly-Molly-Mandy, just to see if she's really as well behaved as all her books make her out to be (my daughter and I are currently working our way through the whole collection). I'm convinced she's an alien. No child can be that well behaved!

8. How important is humour to your writing?

Funny you should ask that, because I was just having a moment of self-doubt after thinking about Lionel Shriver's work! I quite often need to remind myself that there's room for all kinds of books in this world and that I should continue to work with the strengths I have (which I'm told is humour!). Sometimes it's hard to do that, though, when you're run down for not being serious enough. I liken what I write to reading a sit-com. Sometimes you just want to relax and have a laugh and a good time. So, yes, humour is of huge importance to my writing.

9. What does chick lit mean to you?

The term 'chick-lit' is a strange label as it changes from having negative to positive connotations all the time and from year to year. Publishers, the media and the public can all think about it differently at the same time - it can get quite confusing. I try not to think about what it means too hard because I believe there will always be a market for entertaining, humorous books for women. At the end of the day, I'm just trying to offer the reader a good time and a laugh and if anyone wants to call that 'chick-lit', well, that's fine with me!

10. Which of your books has meant the most to you and why?

I'd probably have to point to allmenarebastards.com for the simple fact that it was my first. I sound like such a bad mother when I say it, but the day I was made my first offer was truly the best day of my life. I know you're supposed to say it's the day your kids were born, but I knew that was coming (I even had nine months to prepare for it!). I'm not sure anything can top the day I received 'the call', or seeing one of my novels on the shelves for the first time.

11. What's your best tip for an aspiring chick lit writer?

Read and read and read and read. And then read some more. Then write and write and write and write. And don't stop until you reach the end of your first manuscript. Then keep writing. One big problem is that a lot of people stop writing after the first manuscript and get obsessed with selling it. They get so obsessed, they don't start the second one. Think of the first one as an apprenticeship and keep practising. Also, listen to your gut and don't give up. If I'd listened to a lot of people, I would never have been published again after allmenarebastards.com (the market went into a bit of a slump). It took a couple of heartbreaking years, but I kept going and am now working on what I hope will be book number 10.

12. If you weren't a writer (and mother), what other career would you have followed?

I have a great love for perfumes and scents, so maybe something involving fragrance. Or I would have loved to have been a nutritionist.
---
---