ALLISON RUSHBY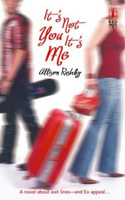 It's Not You, It's Me (2004)
Charlie is at the airport leaving for a trip to Europe when she hears over the announcement system a name from her past - Jasper Ash. It's her former flatmate, a songwriter who has gone on to great things as Zamiel in supergroup Spawn.
The last time she saw him was when they nearly slept together - until he backed away at the last moment proclaiming 'it's not you, it's me'.
When Jas joins her on a bus tour to Oktoberfest in Munich (even though Charlie hates beer), they slip straight back into their easy banter. But That Night looms over them as an undiscussed topic.
Both seem at a crossroad in their lives - why is Jas ignoring all his phone calls and why has Charlie still not finished uni or got stuck into creating her sculptures? Not just a light frothy read. You'll also get some great survival tips in case you ever find yourself at Oktoberfest with a group of Australians from a Beer-drinking Society.

---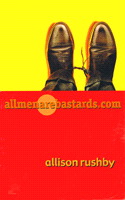 allmenarebastards.com (2000)
Also known as Friday Night Cocktails
Best friends Gemma and Sarah are at their ritual Friday night cocktails, when Sarah adds another name to their bastards list - a collection of 20 yellowing pages of men who have done them wrong. They add the list to Gemma's homepage and she creates a form so other internet users can add their own stories of bastards they have known.
It becomes an overnight success so Gemma sets up a new website called allmenarebastards.com. This becomes Gemma's place to vent, especially now her ex-fiancé Brett has sent her an invitation to his wedding to another woman. But is Gemma's manhating getting out of control?