NEW RELEASE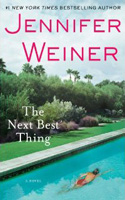 This novel was no doubt inspired by Jennifer Weiner's involvement as executive producer and co-creator of short-lived sitcom State of Georgia. As a result the behind-the-scene details of getting a show to air are very authentic and revealing. Ruth - a character who first cropped up in a short story called Swim - has lived with her grandmother since her parents died in a car crash. The accident left her with long-lasting scars, including a disfigured face. As a young Ruthie recovered in hospital from numerous reconstructive surgeries, she fell in love with TV shows such as The Golden Girls. Now living in LA, she is working for two producers called Dave, when her show The Next Best Thing - loosely based on herself and her grandmother - gets the green-light. But Ruth's celebrations soon turn sour as she has to follow the studio's directives regarding cast and script changes. Will the show that airs have anything in common with her original vision? This is a very entertaining story about a girl chasing her dream and what happens when your big break may well break you. And again Weiner has created a protagonist with an intriguing bag of insecurities and strengths.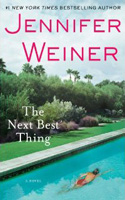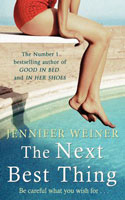 Jennifer Weiner's experiences writing a TV sitcom has inspired her latest novel, The Next Best Thing, about a young woman trying to make it in Hollywood. The synopsis says: "At 23, Ruth Saunders headed west with her 70-year-old grandma in tow, hoping to be hired as a television writer. Four years later, she's hit the jackpot when she gets The Call: the sitcom she wrote, The Next Best Thing, has gotten the green light, and Ruthie's going to be the show-runner. But her dreams of Hollywood happiness are threatened by demanding actors, number-crunching executives, an unrequited crush on a boss, and her grandmother's impending nuptials. Set against the fascinating backdrop of Los Angeles show business culture, with an insider's ear and eye for writer's rooms, bad behaviour backstage and set politics, Jennifer Weiner's new novel is a rollicking ride on the Hollywood rollercoaster and a heartfelt story about what it's like for a young woman to love, and lose, in the land where dreams come true." The Next Best Thing is out in July. Weiner was co-creator and executive producer of State of Georgia, which aired in 2011.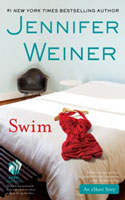 Jennifer Weiner is releasing an ebook called Swim, which is the short story behind her upcoming novel The Next Best Thing. Weiner previously published Swim - about aspiring scriptwriter Ruth who makes her living rewriting college applications - in her 2006 anthology The Guy Not Taken. This 48-page story is released in early May and can be downloaded for free. After Weiner spent time in Los Angeles co-producing the State of Georgia TV show, she knew she wanted to continue the story.
---
---