INTERVIEW
January 2012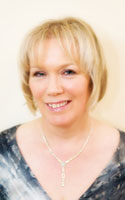 Zoe Miller is the author of Rival Passions, Sinful Deceptions and Guilty Secrets. Her latest novel, A Family Scandal, is out soon. She works as a specialist in communication and personal development skills and lives in Dublin. (Interview by Shirley Benton-Bailey)
1. Tell us about your books.

I've had three books published to date. Guilty Secrets is about three women struggling to escape a past that binds them together until the secrets they fought to hide threaten to destroy them. The story takes you from Dublin to London and to the Amalfi coast in Italy. Sinful Deceptions is based in Dublin and Paris and is about two beautiful, privileged sisters who appear to have it all, but they have made some big mistakes and are about to discover how much these will cost them. Rival Passions is about Jack and Serena, a brother and sister who run a chic, luxury hotel ranked as the ultimate Irish retreat for celebrities. But behind the indulgent facade, the privileged Devlin family is in turmoil. Serena's marriage is in trouble, and sparks really fly when Jack returns home a changed man after a chance encounter in France.

2. What's next for you?

My next book, A Family Scandal, will be out in trade paperback in Ireland (and on Amazon) in March 2012. It's about three sisters, a rock star who died in mysterious circumstances, and the legacy he left behind. Also, I've just agreed a further two-book deal with Hachette Ireland. Happy days!

3. What inspired you to begin to write?

The joy of reading inspired me to write. I've been writing since I was a child, scribbling in school copies and notebooks, and whatever I could get my hands on. And I blame all those wonderful, children's authors I was totally addicted to: Enid Blyton, Carolyn Keene, Lorna Hill...

4. Describe a typical working day for you.

I organise my writing around my day job, so four days a week I'm off to the office, but on the fifth day - bliss - instead of jumping into the car and facing the morning commute I bring a mug of coffee into my writing room at home, where I put in a full day. I also write most evenings for a couple of hours, and I spend between 8-12 hours at the laptop most weekends.

5. Which comes first for you - characters or plot?

Characters! They are sometimes elusive to being with, and they tease the back of my head until I manage to pin them down to discover where they have come from and where they might be going to by the end of the novel. I then build the outline of a plot to support that transition, leaving room for flexibility as the story can change the more I develop the characters and get to know them.

6. How long does it take you to write each book?

It takes about a year in all. I started Rival Passions in July 2009, submitted my manuscript in early May 2010, and then following some excellent editorial guidance, I had a few more weeks of rewriting and edits etc., until the script was ready to go to print.

7. Which of your male characters is your favourite?

Without a doubt, Jack in Rival Passions. He jumped out of my heart, whole and complete. I knew him straightaway. And loved him to bits. (Still do)

8. Do you feel that any of your characters are like you?

I don't consciously set out to recreate any of my traits, but I'm sure facets of them are reflected throughout all my characters. If you dig deep to write a novel, and your writing is coming from the heart, you are of course, digging into your own psyche. It can be scary at times!

9. Do you mind your books being branded chick lit?

That is the very least of my concerns!! The wonderful feeling of having written books that bring enjoyment to others transcends any kind of branding.

10. What is the toughest test you've faced as a writer?

I've had a few testing moments when I've had to forcibly pick myself up and brush myself down, but I think the toughest test of all - and it's a constant battle - is bypassing my own inner critic in order to let my creativity come through.

11. Is there a book out there that you wish you'd written yourself?

Lots! Rebecca (need I say?), The Shell Seekers (Rosamunde Pilcher), Silver Bay (Jojo Moyes), Light on Snow (Anita Shreve) and more recently, One Day. Not to forget the entire Secret Seven series!

12. What are you reading now?

I once made the mistake of allowing my reading to lapse, and my writing definitely suffered! Now I try to read at least one book a week, but with time constraints, if I'm not hooked early on, I reach for the next book on my mountainous TBR pile. I've just finished Megan Abbott's The End of Everything, which kept me riveted, and I've started Jojo Moyes' Me Before You, which I'm loving!

13. Where do you see the publishing industry in five years time?

It will be a changed animal, what with self-publishing, e-publishing and e-books, and global distribution at the touch of a button. But we have always needed good stories to sustain us and offer an emotionally satisfying journey, and there's nothing better than the sensory delight of curling up with a real book in your hand to achieve that. And for me, and lots of readers I know, nothing compares with the pleasure of browsing around a good bookstore. So I think both e-readers and traditional books will live together happily ever after.

14. What advice would you give an aspiring writer?

Join a writing group, go to a couple of workshops, and surf the net for articles and advice on writing. Keep writing - the more you write the better you'll get - and never, ever give up. Above all, have confidence in yourself, for this will reflect positively in your writing.
---
---