ZOE FOSTER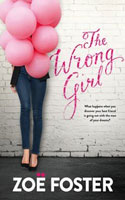 The Wrong Girl (2014)
The new year isn't off to the best start for TV producer Lily. She makes the mistake of sleeping with her good friend Pete, who then proceeds to tell her all about the girl he really fancies. This prompts Lily to go on a dating detox with her flatmate - even though for model Simone it's her hard partying lifestyle that really needs the detox.
But just as Lily starts her self-imposed man ban, the rather tasty Jack becomes the new chef on her cooking segment. He's possibly the type of guy she should go for - if she wasn't on a man break, or if he wasn't seeing someone else totally unsuitable. Lily is a fun character with a universal girl-next-door appeal.
A light-hearted read, this is my favourite Zoe Foster book to date - she's really starting to hit her straps as a writer.

---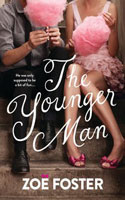 The Younger Man (2012)
Thirty-something Abby runs a thriving promotional agency and is happy being single and carefree. One night she hooks up with the gorgeous Marcus, who is 11 years younger than her. He seems keen to see her again but Abby decides the age difference is just too much. But then she unwittingly hires his website company and he goes out of his way to convince her to give their relationship a shot.
With her business now running like clockwork thanks to the new website and a new right-hand woman, Abby can finally take a well-deserved trip abroad. But what happens when she meets an accomplished, suave and older Italian?
This is an enjoyable story about a vivacious businesswoman who may just be taught a lesson in love by a younger man.

---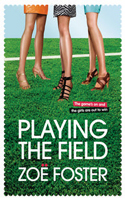 Playing the Field (2010)
Aspiring jewellery designer Jean is just settling into life in Sydney when she spills a drink on rugby player Josh Fox. Not being a football fan herself, she has no idea who Josh is until her sister Colette starts seeing his brother Frank. Unfortunately Josh is not a free agent - he and the chairman's daughter, Tess, are the game's dream couple.
But after Josh's nasty split with Tess, Jean is straight off the benches to join the WAG ranks. As her hair becomes blonder and her clothes get tighter, Jean has to deal with all that being a WAG entails - such as Mad Monday shenanigans and jealous fans. Plus she's trying to outrun a hard-hitting rival who wants her man and WAG status back.
Written by an ex WAG, this will appeal to those wanting a glimpse into that glossy inner circle. Watch out for the cameo from Hannah, the heroine of Air Kisses.

---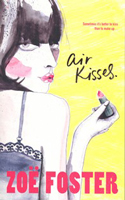 Air Kisses (2008)
Hannah has scored the job that other girls only dream about - putting the lip glosses into the glossies. As Gloss magazine's beauty editor, she is inundated with the latest products, invited to all the glamorous launches and cosseted by shiny PR girls. But it's not all champagne and air kisses - she also needs to work hard and look good - after all how good is a beauty editor whose skin and make-up aren't perfect.
When Hannah reads about her boyfriend being seen out and about with a hot weather girl, she is devastated. But with the help of her best friend Iz, Hannah throws herself into her new career and back into the dating pool.
With each chapter headed with a beauty tip (who knew about cold sores and nail polish remover?), this offers an entertaining insider's view into the magazine world.