ZOE FOLBIGG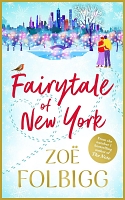 Fairytale of New York (2023)
TV make-up artist Charlie is on her way to New York to spend Christmas and New Year – in fact a whole three months - with her long-term boyfriend Harry, who moved to the Big Apple for work.
But when she arrives at the airport, there is no sign of him. Left to fend for herself, Charlie bumps into a local guy called Pete, who shows her around the city and welcomes her into his fold for the holiday season. But she still needs to know why Harry let her down.
This was a delightful romance with plenty of enchanting scenery. I'm not generally a fan of festive stories but this one was about so much more.

---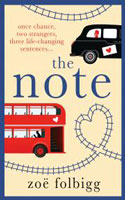 The Note (2017)
Maya is besotted with a commuter on her train to London. But when she finally works up the courage to pass Train Man a note asking him out, it doesn't seem like she'll get her happily-ever-after at all.
Based on the author's real life, this story is one of instant attraction, missed opportunities and taking chances. I must admit I enjoyed the scenes at Maya's fashion website workplace much more than the potential love story. It was also difficult to keep track of the narrative's shifts in time – the dates were given at the start of each chapter but without flicking back through the pages, I was never quite sure how one date related to another. Overall though, it was a sweet and enjoyable read.