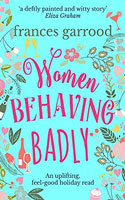 Women Behaving Badly, by Frances Garrood, is about three women, three affairs, and a self-help group with a difference...
The summary says: "Alice is a harried single mother dealing with a teenage son, an irresponsible ex, and a non-committal lover.
Mavis is juggling caring for her elderly, confused mother alongside her long-standing affair with a hypochondriac father-of-two.
And Gabs is a high-class escort who's fallen in love with someone completely unattainable.
All three women are behaving in ways very much frowned upon by the Catholic Church. But their priest, Father Cuthbert is determined to reform them. As the three women strike up an unlikely friendship, each re-evaluates what is most important them. And it seems the not-so-holy trinity of Alice, Mavis, and Gabs can't be 'cured' that easily." Women Behaving Badly is out in July 2018. It was previously published as Basic Theology for Fallen Women.
TEXT