MOVIE NIGHT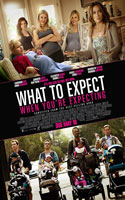 WHAT TO EXPECT WHEN YOU'RE EXPECTING (2012)
Before this week, I hadn't been able to bring myself to watch What to Expect When You're Expecting because, I thought: how could you make a movie out of a pregnancy book? I mean, it just seemed dumb. But, for lack of literally anything else to watch the other night, my husband and I put it on, and you know what? It wasn't terrible. First of all, to even attempt to draw viewers to a movie like this, you need a slew of big stars, and this film has them: Jennifer Lopez, Elizabeth Banks, Cameron Diaz, Chris Rock, Matthew Morrison, Dennis Quaid, and, to my surprise, Anna Kendrick. I recently reviewed Pitch Perfect, equally astonished to find this splendid dramatic actress in such a fluffy comedy. Yet, in What to Expect, as in the aforementioned musical, she gives the film a certain depth it might not otherwise have had. Not surprising, I suppose, was how the film deals with the many aspects of having a baby, just like the book, including adoption, and, sadly, miscarriage. None of them are as prepared as they think they are for the moment of becoming parents, and thus the film strikes a realistic note.
That said, there isn't much of a plot other than how the various moms and dads prepare for this life-altering experience. And though the film does delve a bit into certain parenting controversies, such as whether to circumcise or not, the writers could have done more with that, such as discussing the virtues of breastfeeding, the pros and cons of epidurals, and other issues that concern pregnant moms and dads. Yet there is a focus on how different women go through pregnancy, with a very funny Elizabeth Banks being the character who suffers every possible discomfort and embarrassment, and the opposite, her young stepmom-in-law, played by Brooklyn Decker, barely noticing she's carrying twins. There's even something amusing for the guys. The dads and dads-to-be in the film belong to a "dudes support group" that go out walking with their babies in strollers and snuglis to give their wives a break while doing some manly bonding. And though there are some funny bits in these scenes, there's no getting away from the fact that Chris Rock, although a wonderful comedian, is just an awful actor. Sorry, I had to say it.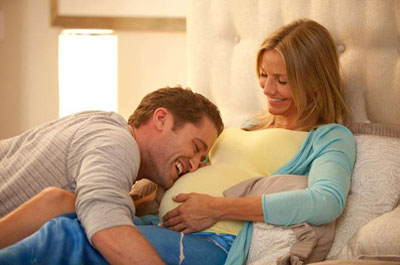 When the births finally occur, all, of course, at the same time in the same hospital, one of the women has an epidural and ultimately a C-section, though this doesn't go along with her pre-typed birth plan, and two have natural births: one difficult, the other delivering her baby with a sneeze. Another of the couples experiences a beautiful adoption ceremony in Ethiopia. None of them are as prepared as they think they are for the moment of becoming parents, and thus the film strikes a realistic note and ultimately succeeds. It's not a great movie, but a fun one to watch, I think, for moms, dads, and parents-to-be.

Movie reviewed by Georgina Young-Ellis
---
---