WENDY HARMER
Wendy Harmer is a well-known Australian comedian and writer of the children's Pearlie series.
Friends Like These (2011)
Jo Blanchard loved her job as deputy head of a prestigious Sydney girls' school. But when she discovers her husband JJ - a luxury car dealer with political aspirations - has been having it off with one of the other DOGs (Darling Old Girls), she makes a stand during speech night and is sacked. Now she is about to perform her first ceremony as a civil celebrant but even in her new life she can't get away from the unforgiving school community. Meanwhile her friend Suze, a former school admin worker who opened a florist shop after winning Lotto, has her own problems. Not only has her husband gambled away all the money, she has been harbouring an explosive secret that's about to be uncovered. Harmer is at her best while making tart observations about the social set.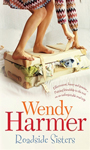 Roadside Sisters (2009)
Twenty years ago, Nina, Meredith and Annie were part of a feminist gospel choir. Now the trio are hitting the road again, travelling north from Melbourne to Byron Bay to attend the wedding of Meredith's daughter. Their home for the next two weeks is a motorhome, with Elvis emblazoned on the side. Nina, the overweight wife of a footy legend and mother of three sons, is desperate for some female bonding - if only she could stop acting like a mother hen. Divorced homewares shop owner Meredith is wondering if her perfectly elegant life is perhaps a bit empty; while single real estate agent Annie has been drowning her sorrows in drink. With a catty choirmate, hairy union officials and feral pigs to contend with, their unforgettable roadtrip makes for one feel-good read.

---
Also by author:


Farewell My Ovaries



Love & Punishment

---