VICKY PATTISON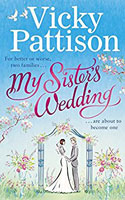 My Sister's Wedding (2017)
Book editor Becky is known as the reliable sister and now she is getting married to the lovely Daniel, heir to a fortune. Her younger sister Lizzie is known for her partying and has just lost yet another job and is sleeping on her mate's couch. When Lizzie has a run-in with Daniel's snobby socialite sister, Nicole, at the engagement party, she not only becomes a tabloid target, she also fears her sister is leaving her behind.
Told from the perspectives of both sisters, this is an enjoyable, engaging read, with Becky cast as the media darling, Lizzie as the scatterbrain sidekick and Nicole as the perfect villain.

---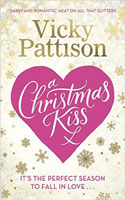 A Christmas Kiss (2015)
Amber Raey is a lowly fashion assistant with huge ambition. When opportunity knocks, she suddenly finds herself on a fast track to success, creating her own designs at last. The glamour and fame quickly go to her head, and when she attracts the interest of a bad boy singer, her friends and family are soon left out in the cold. Can she readjust her work/life balance in time to enjoy a happy Christmas with her loved ones?
I have watched Vicky Pattison on several of her reality shows, but this was my first time reading one of her novels and I was surprised by how much I enjoyed it! Set in the fast-paced and often catty world of fashion, Amber has fierce ambitions to become successful, but was such a likeable, down-to-earth girl that I fell in love with her instantly. Vicky's quick and sharp wit was evident throughout. The plot was fast paced and full of twists and turns that caught me by surprise. An excellent festive read. (LO)

---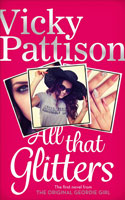 All That Glitters (2015)
Issy had to give up her hairdressing dreams in London and return home to Manchester when her dad had a heart attack. She's happy enough working in her mum's salon but then her father puts her forward for a reality TV show. Can You Cut It pits a group of hair stylists against one another in a series of challenges, with the prize being a job at a prestigious salon and their own haircare line. With the main judge taking an instant dislike to her and one of the contestants, snooty Mia, being a nightmare to live with, Issy has her work cut out for her.
With plenty of backstabbing and bitching, this was an entertaining, juicy read from someone who knows all too well the perks and pitfalls of reality TV fame. Totally surpassed expectations and hooked me right in.