TRACY BLOOM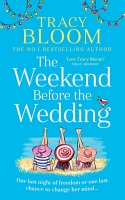 The Weekend Before the Wedding (2022)
Shelley never thought she'd get married but here she is engaged to the well-to-do Colin. She heads to Spain to celebrate her hens weekend with a ragtag crew including her best friend Becca, mother Peggy, aunt Nancy, and cousins Rosalind and Chloe. But then she receives a troubling text.
From the Spice Girls to scooters, cocktails to karaoke, banana rides to bickering, this is one weekend that will change everything. Mainly set in 1999, the story makes for a fun escapist read with lively multigenerational characters.

---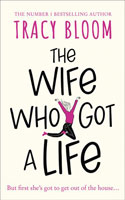 The Wife Who Got a Life (2021)
Cathy is married with two teenage children and is stuck in a bit of a rut as menopause looms. When her sister gives her a motivational diary, Cathy decides to strive for one goal each month, from ditching cooking to getting a life outside her family.
Meanwhile her husband wants to upend their lives by quitting his consultancy job and train as a teacher.
Tracy Bloom is a wonderfully witty writer, with sharp observations about midlife malaise. As the story follows Cathy through her year and she turns her life around through small monthly missions, there's plenty of laughs, sadness and realisations.

---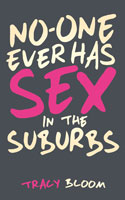 No One Ever Has Sex in the Suburbs (2015)
Ben and Katy are facing up to the realities of parenthood following the arrival of baby Millie. And whilst Ben seems to revel in being a dad when he gets home from work, Katy is finding being a stay-at-home mum a struggle. Ben's answer: to swap roles, how hard can it be?
But whilst Katy dives back into work, Ben is realising just what he's let himself in for, but of course he can't confess to Katy. Instead when one of the women from the prenatal classes tells Ben she knows just the person to help out, he jumps at the chance, unfortunately that person is the last person Ben wants to be involved with. However, he's running out of answers. As long as Katy doesn't find out, it will all be fine.
Tracy Bloom's inimitable style and wit hooks you in from the first page. It's wonderful to be back with the characters from the prequel (No-One Ever Has Sex on a Tuesday) and although this one carries on from before, it's not hard to pick up if you haven't read the first one. The baby theme makes for some great comedy and it's an all-round entertaining read. Bloom is a highly readable author and one guaranteed to put you in a good mood. (JC)

---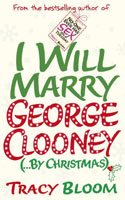 I Will Marry George Clooney (By Christmas) (2014)
Michelle cast aside dreams of becoming a top chef and instead works in a chicken factory to provide the best for her teenage daughter Josie. She's upset to discover that Josie is preparing to take the next step with her unsavoury boyfriend, Sean. So Michelle makes a desperate bet - that Josie won't, if her mother is able to convince George Clooney to marry her.
She embarks on a crazy escapade to meet the Hollywood heart-throb, even setting up a charity event to donate to his favourite cause. Meanwhile, Rob, the boyfriend of her late sister Jane, returns and Michelle realises she must have a long-overdue conversation with him.
I would say somewhere between the conception and release of this novel that perennial bachelor George Clooney surprised everyone by finally settling down and getting married again - a fact alluded to in the prologue and epilogue. Nevertheless, the concept still works and Bloom weaves a very humorous story of a woman on a madcap mission.
The supporting cast are terrific, especially DJ friend Daz, who continually espouses the virtues of One Direction. I will definitely be seeking out another book by this author (by Christmas).

---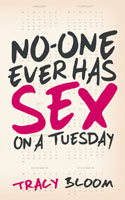 No One Ever Has Sex on a Tuesday (2013)
When Katy turns up to her first antenatal class with her partner Ben, the last person she expects to see is Matthew, her childhood sweetheart, and, more worryingly, potentially the father of her unborn child, although up until this point neither Matthew or Ben are any the wiser over the issue of the uncertain paternity. Katy and Matthew had both expected their one-night stand after their school reunion to be just that but now they have to face up to each other and their choices.
Tracy Bloom's debut is refreshing and fun. While it was funny, I did feel that some scenes tried a bit too hard and that the book's humour was at its strongest when it was less contrived. The characters however come to life wonderfully and it seems that the author has a particular talent for writing men, in characters like Ben and his bumbling sidekick Braindead.
I also loved the fact that I felt conflicted over who Katy should end up with, Matthew or Ben, and that right until the end it was uncertain as to which way things would go. This is a strong debut that suggests there's lots more to come from this author. (JC)