TONI HALLEEN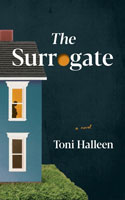 The Surrogate (2021)
Forty-something journalist Ruth longs to have a child with husband Hal, who is already a father to two sons. After looking for a surrogate, Hal – a lawyer - draws up an agreement with Cally, who wants to use the money to go to college.
However when the baby girl is born, Cally changes her mind and clambers out the hospital window with her newborn to be picked up by her former boyfriend Digger. They head off to a remote cabin in wintery conditions.
Ruth goes searching for her daughter but according to the law, Cally hasn't done anything wrong.
The atmospheric story is based in the early 2000s and is told from multiple perspectives which allows the reader to understand both the birth mother and intended mother's points of view. It makes for a good book club selection as you ponder which woman should end up with the child.

---